View all news
Anatomy academic donates 13th century manuscript to University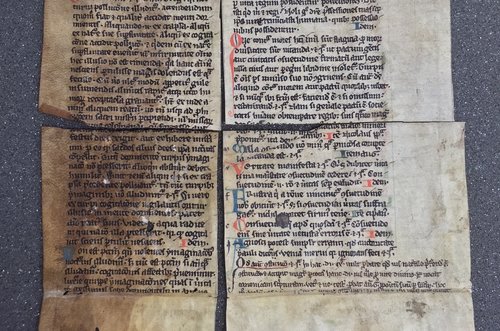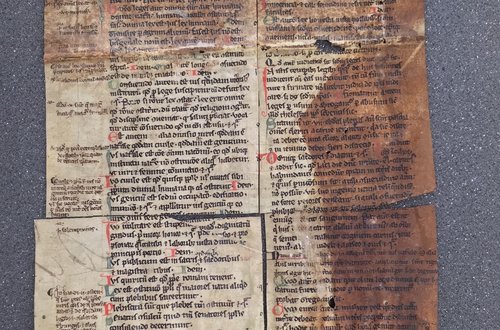 13 September 2017
A Senior Research Fellow in the Centre for Applied Anatomy has donated fifteen fragments of a 13th century manuscript to the University Library's Special Collections.
The leaves came into Dr Jonathan Musgrave's possession by a roundabout route. In February 2013, he was given the first as a birthday present by his sister, who had purchased it from Mr Steven Harmer, an antique dealer in Eye, Suffolk.
Mr Harmer had acquired it, with seven matching leaves, in a coffer he had bought in the Midlands, and subsequently sold. It was such an unusual gift that Dr Musgrave tried, successfully, to acquire a further six the following month, the eighth having been sold to another customer. The leaves are small, and had been torn or cut from a larger sheet, and folded along their longest sides.
Dr Musgrave sent images of his seven to Dr Teresa Webber FBA, Reader in Palaeography at the University of Cambridge, and Fellow of Trinity College, who identified them as having come from Book I of an abbreviated copy of Gratian's Decretum, a canon law text compiled in the mid-12th century. MS Eye is an English or French manuscript dating from the thirteenth century. Later it was dismembered, and the fragments used in a bookbinding at any time from the later middle ages to the16th-17th centuries.
In 2014 the original owner of the coffer offered eight more leaves to Mr Harmer, which they had found while clearing their house ahead of a move to Spain, and which Dr Musgrave subsequently acquired.
"I was a classicist many years ago", Dr Musgrave said, "and I have given MS Eye to Special Collections for it to be used in palaeography teaching. I hope our History—and other—undergraduates will enjoy handling and studying its leaves. Having survived 800 years, they are tough enough to withstand many more in Michael's care."
Michael Richardson, Senior Assistant Librarian in the University's Special Collections, added: "We are delighted and grateful to have received this generous gift from Jonathan."