View all news
University makes considerable investment in services to support student wellbeing and mental health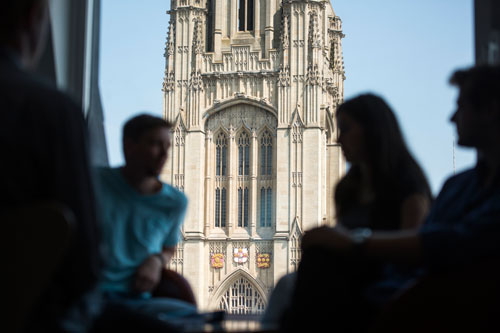 28 September 2017
The University of Bristol is investing an additional £1 million annually to enhance its student support services.
The investment follows a review of support for student wellbeing in the context of growing national concern over the wellbeing of students in the UK, and an increase in those who come to university with an existing mental health condition. A wide range of staff and students contributed views and ideas to this review.
Mark Ames, Director of Student Services at Bristol said: "We are seeing an increasing number of students who struggle with the transition to university life, and an increase in the number of students who have additional support needs, including mental health issues."
A key addition to support at Bristol will be the new Student Wellbeing Service which will see Student Wellbeing Advisers embedded in every academic school. Their role will be to identify and assist students at an early stage who might be struggling so they can be offered support before any issues start to escalate. Mark and his team are now recruiting for these new roles and the teams are due to start working in schools from Spring 2018.
"We are hoping to get on to the front foot and be much more proactive in our work with students. As well as encouraging and equipping them to manage their own wellbeing, our new Student Wellbeing Advisers will offer students a clear first point of contact in their school when they are struggling with their emotional wellbeing."
"Hopefully, students will also experience an enhanced level of academic support, as lecturers and personal tutors will have more time to focus on supporting student academic and personal development knowing that their emotional wellbeing is supported by the new service."
An increasing number of our students are studying successfully while managing an enduring mental health difficulty, such as anxiety or depression. However, they require more specialised support. Therefore, we are also investing additional resources in our Student Counselling Service and Students' Health Service.
A new Mental Health Advice Team will work proactively with students managing severe and enduring mental health difficulties to ensure they can access healthcare in a timely manner and navigate their student experience more effectively. University GPs will also have additional capacity to provide same-day extended mental health appointments to students.
More broadly, we are promoting a culture of openness and aim to change the way we think, talk and act about the wellbeing and mental health of those who study and work here. We are encouraging students to share their experiences, highlighting ways they can manage their wellbeing and take part in activities outside their studies, as well as ensuring they know where and how to seek support when they need it.
Further information
The University will sign the Time to Change pledge on 6 October which is a part of our commitment to support the wellbeing of our students and staff. To highlight the importance of this pledge and begin to open up conversations about mental health and wellbeing, students and staff have been sharing their stories – you can watch them on YouTube.