View all news
University of Bristol climbs three places in the Good University Guide 2018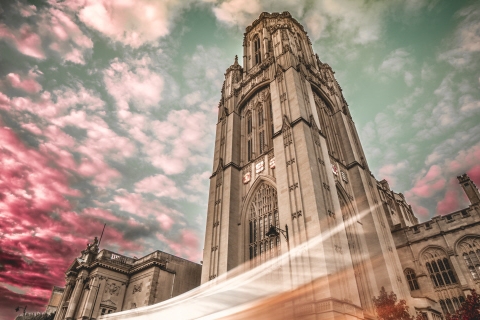 Press release issued: 22 September 2017
The University of Bristol has moved up three places in this year's Times and The Sunday Times Good University Guide league table to 16th.
With just under 96 per cent of its students finishing their degree, Bristol has the equal fifth highest completion rate in the UK and four out of five Bristol graduates go into professional jobs or on to further study within six months of graduation.
Furthermore, of those that do finish, 87 per cent finish with either a 2:1 or first - one of the 10 highest proportions in the UK.
A revamped curriculum this month will offer Bristol undergraduates optional enrichment courses covering innovation and enterprise, global citizenship or sustainable futures. Bristol Futures is at the heart of a new strategy launched last year, which aims to develop the qualities needed to thrive in the future jobs market.
The Times and Sunday Times Good University Guide also revealed that 20 of our subjects are rated in the top ten in their disciplines, with seven subjects in the top five.
Subjects ranked in the top five are: Aeronautical & Manufacturing Engineering; Electrical and Electronic Engineering; General Engineering; Mechanical Engineering; Civil Engineering; Sociology; and Pharmacology & Pharmacy.
Professor Hugh Brady, Vice-Chancellor and President of the University of Bristol, said: "While we have more work to do, I'm pleased this league table highlights our strong track record in graduate employability as well as the high quality of degrees achieved by our students.
"It's an exciting time to be in Bristol. Our new strategy has led to an unprecedented investment in our curriculum, pastoral support and infrastructure as we create an innovative and supportive learning environment that is on a par with the very best in the world."
The new edition of The Times and The Sunday Times Good University Guide 2018 is published over three days, beginning with a 96-page supplement published on Sunday.
The league table is made up of nine indicators including student satisfaction with teaching quality and their wider student experience, research quality, graduate prospects, entrance qualifications held by new students, degree results achieved, student/staff ratios, service and facilities spend, and degree completion rates.
Bristol is in the top 10 in the UK in three of the indicators: 'Completion rates', 'Research quality', and 'Firsts and 2:1s'.