View all news
Category winners to be honoured in Vice-Chancellor's Impact Awards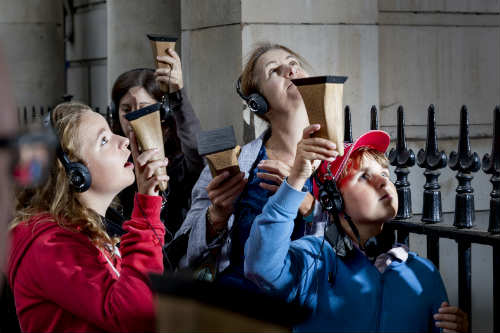 17 November 2017
The category winners of this year's Vice-Chancellor's Impact Awards, which showcase the diverse and globally important contributions that University of Bristol research makes to society, have been announced.
The VCI Awards recognise the significant positive impact our University research has across the world. Covering four categories: Business and Economy; Health and Wellbeing; Society and Culture and Policy and Practice, the awards will be made at the annual Enterprise Reception on 23 November.
Selected from a strong field of important research projects, the winners include key medical intervention work in visionary disease in children, and improvements to the primary health care response to domestic violence and abuse.
Business and Economy
Dr Wuge Briscoe and former Masters student Elizabeth Mould have been recognized for their ground-breaking work with fluids and surface interactions in producing a commercially valuable and environmentally-friendly artificial snow product, which is now in demand for use within the film industry.
The 'Soft Matter at Interfaces' group worked closely with Snow Business Ltd, the world's leading supplier of artificial snow to create new ecologically-friendly products, Eco-flake and Pro-Flake™. A worldwide first; prior to this, the most effective snow fluid was not environmentally-friendly and regulatory constraints hindered the company's international market expansion.
Briscoe and Mould's expertise in colloids and interface science enabled Snow Business to secure ISO 14001 accreditation, an internationally recognised environmental standard and a competitive advantage. Since launch, these products have secured new partners, including the Eden Project, and were used in blockbusters such as 'Fantastic Beasts and Where to Find Them' and 'Murder on The Orient Express'.
Paul Denney, Head of Research and Development at Snow Business, said "We weren't totally sure what Lizzie (Elizabeth Mould) and Wuge (Dr. Briscoe) would be able to do, especially as we had a long wish list of characteristics, but they've surpassed all our expectations."
Health and Wellbeing
Recognising their internationally-important medical intervention work in visionary disease in children; Professor A.V Ramanan, Professor M.W Beresford (Liverpool) and the Uveitis (Sycamore) Study team have been awarded for facilitating world-wide access to sight-saving medication for children suffering from eye disease (Uveitis).
Co-Chief Investigator Professor Ramanan, along with colleagues, set up a landmark trial quickly proving the effectiveness of and case for improving access to a novel drug (adalimumab) for treating uveitis in children. Prior to this study, there were few evidence-based therapies for children with moderate to severe uveitis leading to many children suffering visual complications.
The interim successful results led to the trial being stopped early by the data safety monitoring committee (DSMC) with NHS England immediately approving access to the new drug across England. Pharmaceutical company, Abbvie Inc, applied and obtained license and market authorisation from the European Medicines Agency enabling access to the drug for thousands of children across Europe. This access may soon be replicated in the US, after Federal Drugs Approval. The results of the study, funded by NIHR and Arthritis Research UK, were published in the world's highest-rated medical journal, the New England Journal of Medicine.
Society and Culture
The award for 'Society and Culture' goes to Dr Paul Clarke for his work on "The Lost Palace", a multi-award-winning visitor experience commissioned by Historic Royal Palaces for Banqueting House, London. Clarke and "The Lost Palace" team explored 'the application of theatre, locative devices and digital technology in heritage contexts' and produced a popular visitor experience, which made the history of Whitehall Palace accessible to both adults and children.
Clarke wrote, directed and co-designed this successful collaboration between Historic Royal Palaces, Uninvited Guests, Lewis Gibson, Chomko & Rosier, Calvium, Limbic Cinema and Fuel Theatre. Using binaural audio, location-sensitive mobile devices and performance, "The Lost Palace" enabled visitors to experience the extraordinary historical events that took place in Whitehall Palace on the streets of contemporary Whitehall – such as Guy Fawkes' arrest and the first encounter between Henry VIII and Anne Boleyn.
"The Lost Palace" won two European Heritage in Motion awards and a Museums + Heritage Innovation Award. Visitors rated the experience very highly with 90% agreeing it was unique, brought history to life and deepened their connection to the past. Judges of the Museums + Heritage Innovation Award 2017 commented: "A genuinely innovative project which successfully harnessed new technology to bring to life the history which surrounds us in a new multi-sensory, tangible way".
Policy and Practice
Important and timely work by Professor Gene Feder and the IRISi team in "Improving the primary health care response to domestic violence and abuse" has been recognized as this category's champion.
Health services, including general practice, have been slow to respond to the needs of women experiencing domestic violence and abuse (DVA).
Professor Feder led the team that developed Identification and Referral to Improve Safety (IRIS); a programme of DVA training and support for general practice teams, helping them recognise patients with experience of DVA and giving them a direct referral route into specialist DVA services.
IRIS started out as a research project, led by the University of Bristol (UoB), and has now been commissioned in over 30 areas in England and Wales. Over 800 general practices have engaged in IRIS training and more than 8,000 women have been referred to their IRIS advocate-educator, improving their safety, quality of life, and mental health. Additionally, thousands of women have been offered signposting and information by general practitioners and practice nurses to enable them to take up support when the time is right for them.
Commenting on the IRIS training, one clinician said: "Best, most informative and inspirational training I have been on in 30 years. Fantastic service, gives me hope for humanity, you're doing an amazing job."
The Enterprise Reception will honour each of the VCI Category champions with awards announced by Pro Vice-Chancellor Professor Nishan Canagarajah and presented by Vice-Chancellor and President Professor Hugh Brady.