View all news
One of the biggest sporting events in the South West is coming to Bristol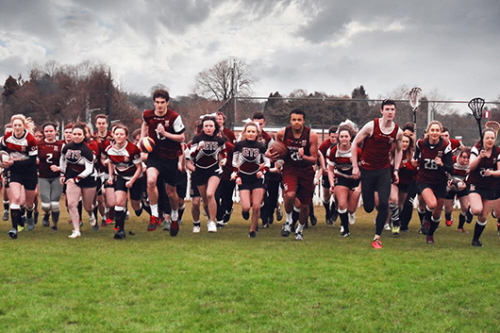 Press release issued: 14 March 2017
One of the biggest sporting events in the South West gets underway on Thursday [16 March] as Bristol's two universities battle it out to be crowned Varsity champions 2017.
The Unite Students Varsity Series sees almost 2,000 students and over 100 teams from the University of Bristol and the University of the West of England (UWE) go head to head in dozens of sports and activities.
Popular events include the traditional boat race in Bristol's floating Harbour on Saturday [18 March], and two events at Ashton Gate Stadium for the series-closing Rugby Union and Football fixtures [30 March and 29 April].
For the first time in its history, Varsity will feature a Colour Run at UWE's Frenchay Campus with participants from partnership schools, student, staff, alumni and community fundraisers.
In the year where Bristol has been recognised as the European City of Sport, the Varsity Series brings a festival of elite competition for everyone in the city to enjoy.
Mayor of Bristol, Marvin Rees, said: "The Varsity series will be an important event during our year as European City of Sport. As well as providing entertaining contests for everyone to enjoy, Varsity also raises vital funds for local charities.
"I would encourage everyone to head along and catch some of the events and enjoy some top class sport. Then, if you are feeling inspired, there are many opportunities to get involved in sport around the city, including trying out a new activity with one of Bristol's many and varied sporting clubs."
For the first time, the series will launch with Ignit10n, a 10 hour extreme sports day with athletes taking on endurance challenges for Above and Beyond - the charity which raises money for Bristol's city centre hospitals.
In the last five years the Varsity Series has raised in excess of £50,000 for local charities and each Students' Union.
This year's Varsity Series will also be the first run in association with Bristol-headquartered Unite Students, the UK's largest student accommodation provider, who are the main sponsor of the event.
Members of the public are welcome to watch the Varsity series. Highlights include:
Boat Race on 18 March, Bristol Harbourside, 11am to 3pm
Colour Run on 22 March, UWE Frenchay Campus, 4pm to 6pm
Rugby on 30 March, Ashton Gate, 5pm to 10pm
The University of Bristol is the reigning Varsity champion and it always proves to be a closely fought contest.
John House, Sport and Student Development Officer at the University of Bristol Students' Union (Bristol SU) said: "Last year Varsity saw 5,000 students and members of the community come together to support athletes from the University of Bristol and UWE. I'm delighted to say that this year Varsity is set to be even bigger, with larger venues, more events and, most importantly, more students taking part.
"I'm a firm believer that our University has some of the most remarkable, committed and generally brilliant athletes you could wish to find and I'm really excited that they have the opportunity to show off their talents and abilities on a number of stages.
"Bristol are defending champions this year, and we will be giving everything we've got to hold on to that trophy."
Serena Smith, VP of Sport and Health at The Students' Union at UWE, said: "Throughout my time at University, the Varsity Series was always the most exciting event of the year so getting to be a part of the biggest series yet has been an amazing experience.
"UWE Clubs have done some fantastic work and are more ready than ever to compete and challenge University of Bristol for the Varsity trophy.
"The preparations and hard work have started and our athletes are counting down the days until the Varsity launch."
Speaking about their support for the Varsity Series, Richard Brenner, South West Area Manager for Unite Students, said: "We are really pleased to be involved in this great programme of events that has the potential to bring students and members of the community together, while raising funds for some really important causes."
For more information and to buy tickets, please see the Varsity website.
Further information
A brief history of the UWE vs. Bristol Varsity Series
The series began in 1995, when Bristol first challenged UWE to a Boat Race in the Bristol Docks. Since then, Varsity has grown to include nearly 2,000 athletes in over 100 teams.
This year's Varsity Series will see the return of old showpieces - the Boat Race, rugby union, football and basketball - alongside newer additions like darts, lacrosse and American football, as well as a Colour Run which is open to everyone of all ages.
The central Varsity Day will see over 1,000 athletes competing in 27 sports from Athletics to Ultimate Frisbee - in what is unquestionably the South West's biggest one day multi-sport event.
In the last five years the Varsity Series has raised in excess of £50,000 for local charities and each Students' Union.
About Unite Students
Unite Students is the UK's largest and most established manager and developer of purpose-built student accommodation. It provides a home for around 50,000 students, in more than 140 properties, across 28 leading university cities in England and Scotland. Unite works in partnership with more than 60 Higher Education institutions and also lets rooms directly to students. Founded in 1991 in Bristol, The Unite Group plc is a FTSE250 company, listed on the London Stock Exchange.