View all news
Little Britain star Matt Lucas awarded honorary degree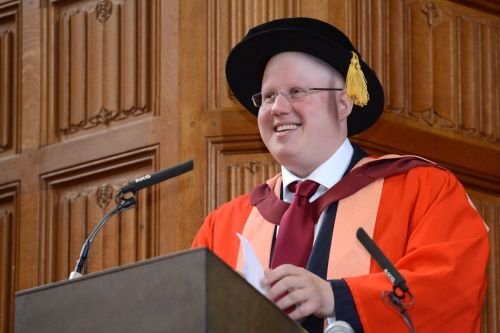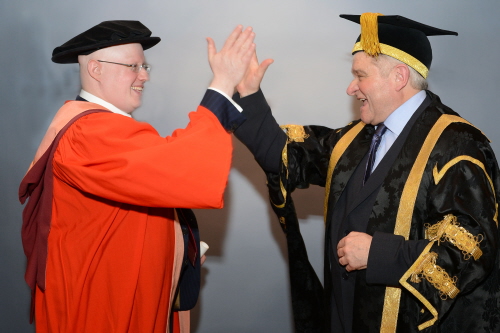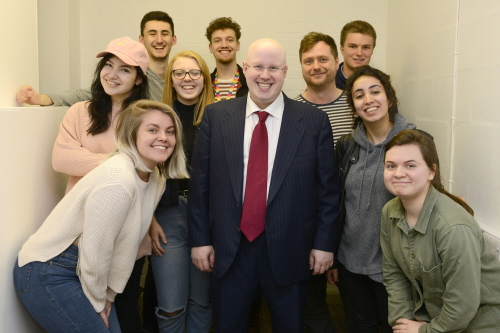 Press release issued: 17 February 2017
Matt Lucas, one of Britain's most recognisable and well-loved entertainers, has received a degree from the University of Bristol – 24 years after he started studying drama there.
"This is something I never thought would happen," Lucas said after receiving his honorary Doctor of Letters degree yesterday [16 February].
He added: "My mum's got a wall in her house with a photo of my brothers getting their degrees, and two photos of my sister - she's got two degrees. Now, I'm going to have my photo on that wall."
Lucas began studying drama in 1993, a decision which was influenced by his comedy partner David Walliams, who had recently studied drama there and met Lucas at the National Youth Theatre.
Having landed the role of scorekeeping baby George Dawes in the comedy panel game Shooting Stars, Lucas decided to take a year out from his studies after his second year but never returned.
He said: "In the year before I went to uni, I'd started doing stand-up. It went well and I'd been offered an agent - and, to be honest, I didn't really give uni a fair chance. At the weekends, in my second year, I was filming Shooting Stars, and that all took off."
Lucas followed this with the smash hit and Bafta-winning series Little Britain, which he created with David Walliams. He has since forged a successful and varied career in theatre, film and television.
When crossing the stage to receive his honorary degree in the Wills Memorial Building, Lucas high-fived the University's Chancellor, Sir Paul Nurse, before addressing the audience with some witty words.
He said: "I stand here before you in receipt of this great tribute. You fools.
"I was just generally useless at university life. I had few friends and rarely left my room, unless it was to go and cook something in the kitchen.
"Today, you bring the entire university honours system into question by celebrating a charlatan who left university a year early in 1995, when most of this year's graduates were still in nappies, so that he could indeed wear a romper suit of his own, appear in a Cadbury Creme Egg advert and then do a sketch show with his friend."
Most recently, Lucas reprised his role as Tweedledee/Tweedledum in Tim Burton's Alice Through the Looking Glass and appeared in the tenth series of long-running British sci-fi drama Doctor Who as the Twelfth Doctor's companion, Nardole.
Lucas took a trip down memory lane after the degree ceremony, visiting the Wickham Theatre where he used to study and even bumping into some old friends.
During a question and answer session with current Theatre, Film and Television students, Lucas offered some wise words of advice about writing, acting and comedy.
He was asked about the success of Little Britain and said: "Little Britain changed our lives. We went from writing Little Britain in our little flats to writing it in big houses with paparazzi outside.
"It would be a different show now because people's attitudes have changed and we live in a very different Britain."
Lucas also revealed how some of the characters were based on people he encountered during his time in Bristol.
Perhaps most obvious is teenage delinquent Vicky Pollard, famous for her 'yeah but, no but' catchphrase. The inspiration for her character came from a project Lucas undertook at university when he encountered a schoolboy in Broadmead; Lucas asked the boy 'How are you?', to which he replied 'Yeah, no, yeah, dunno!'.
Lucas and Walliams also incorporated a lecturer called Martin, who was based on Professor Martin White - the former Head of Drama while they studied at Bristol and who 'everyone loved'.