View all news
Artist builds on Bristol's brick-making history to create new social sculpture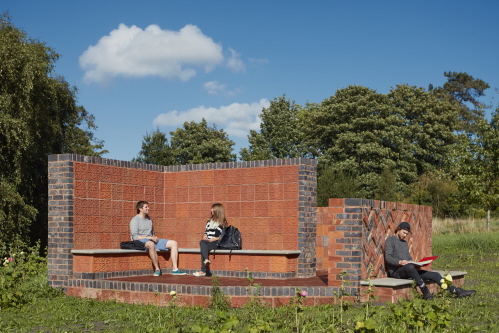 Press release issued: 15 September 2016
Prominent artist Sarah Staton has created a permanent new outdoor artwork in Bristol, based on the city's rich brick-making history.
The 'social sculpture', called Edith and Hans, is situated in the grounds of the University of Bristol's Stoke Bishop campus and is a 21st century folly for the public and students living nearby to enjoy. It will be officially unveiled today [15 September].
Located in a meadow between the Wills Hall and Hiatt Baker halls of residence, the new artwork is conceived as an 'outdoor room' - somewhere between a ruin and an archaeological find, providing a place for contemplation, a meeting space or a site for picnicking.
Drawing on Bristol's historical connections with brick-making, the highly textured sculpture is constructed from artist-designed wood-fired tiles, reclaimed red and blue bricks and pennant stone.
The city's association with bricks dates back to the 19th century when Charles Richardson, a railway engineer and friend of Isambard Kingdom Brunel, noticed the high-quality clay that was dug out in the process of building the Patchway tunnel for the Bristol and South Wales Railway. Due to the minerals in the soil, the bricks were produced in many colours – apart from the traditional red, there were also yellow, buff and blue bricks.
Staton said: "During my research I was struck by the prevalence of brickwork and decorative detailing in and around the Stoke Bishop site.
"I then discovered that Bristol has a rich history of brickmaking, many examples of which can be found in Bristol Museum & Art Gallery. Edith and Hans has been built using local reclaimed bricks and decorated with a bespoke tile that reflects both the University's community and my émigré family connections."
The sculptures are named after the artist's grandmother Edith and great uncle Hans who both had personal connections to Bristol. As Director of Bristol Museum and Art Gallery, Hans knew the Wills and Hiatt Baker families who were patrons of the arts and gave their names to the adjacent halls of residence.
The sculpture offers long views across Avonmouth and into Wales in one direction, and a view up to Wills Hall in the other.
Staton was selected both for her ability to deliver projects of national acclaim and her approach, which creates site-specific sculptural commissions that are sensitive to their location and aim to encourage practical use.
During the development of her proposal Sarah carried out extensive research into the history of the area, in particular the green spaces and buildings at Stoke Bishop.
The tile design is formed like a monograph, composed of the symbols for major global currencies including the yen, euro, pound, dollar and rupee.
It celebrates the University of Bristol's diverse global community, and refers to the many countries across three continents Edith and Hans called home during their lifetimes.
Professor Guy Orpen, Deputy Vice-Chancellor of the University of Bristol, said: "Sarah has created an extraordinary permanent artwork for Stoke Bishop, which will no doubt be a popular spot for our students and the public to enjoy for years to come. What is so special about Edith and Hans is how it combines form with function to respond to the natural environment and enhance this beautiful open space in Stoke Bishop."
Edith and Hans was commissioned by the University of Bristol and produced by Field Art Projects. It is the first permanent commission to be delivered as part of the University's Stoke Bishop public art programme and forms the second phase, following on from an artist residency by Melanie Jackson carried out in 2013.
The public art programme at Stoke Bishop forms part of the University's commitment and overall ambition for public art set out in its 2008 international public art strategy. It seeks to meet a number of objectives that include adding to its growing collection of outstanding temporary and permanent artworks, reinforcing the distinctive aspects of the different types of gardens and parkland surrounding the halls of residence.
The programme is also creating distinctive new landmarks throughout the grounds that can become meeting and talking points, promote orientation and encourage new uses of overlooked spaces.
Further information
Sarah Staton
Sarah Staton (b.1961) creates work combining a sculptor's sensibility with design, landscape and architecture. Her commissions have explored the interaction between audience and environment, for example becoming habitable or capable of supporting life. Sarah is interested in the tactile qualities and mix of hard and soft materials in the environment, an idea she returns to repeatedly in her work.
Staton's work is held in collections all over the world including the Arts Council of England, British Museum, Henry Moore Institute, MIMA, Sunderland, South London Gallery and Tate, as well as private collections in Europe, North America and Japan. Staton is Senior Tutor at the Royal College of Art in London where she also lives and works.
Field Art Projects
Field Art Projects is an art consultancy based in Bristol run by curator and commissioner Theresa Bergne. Established in 1999, the organisation has more than a decade of experience commissioning visual artists, designers and performers to create permanent and temporary public artworks and events. Field Art Projects wrote the public art strategy for the University of Bristol's residential site at Stoke Bishop in 2012 and have delivered the programme to date. Additional projects include the public art programme for the Bristol Arena, a new 12,000 seat stadium for the city; Future Perfect, co-curated with Jes Fernie, the first public art programme funded through a Neighbourhood Partnership where governance is extended to members of the local community; and the award winning public art programme for The Barts Breast Care Centre in London now heralded as an exemplar project for commissioning art in hospitals.
Construction of the artwork

The artwork was constructed byBristol-based building contractors Aztech Building Services, with groundworks by Earthworks. The bespoke wood-fired tiles were produced to the artist's design by specialist brickmakers H G Matthews, and reclaimed bricks were sourced from Ronson Reclaim in Gloucestershire. The pennant sandstone was sourced from Royal Forest Pennant in Gloucestershire. The installation work was carried out by Aztech Construction and by the University Estates Office's landscape team.