View all news
University of Bristol among the world's best for employability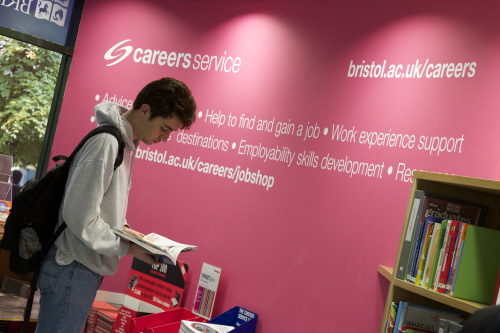 Press release issued: 24 November 2016
Students at the University of Bristol are among the most employable in the world, a new league table published today [24 November] has confirmed.
The QS Graduate Employability Rankings 2016/17 place Bristol at 39th in the world and 6th in the UK out of the global institutions surveyed.
Performance indicators focused on factors which are deemed to reflect graduate employability, with Bristol scoring highly thanks to its partnerships and reputation with employers.
A major report earlier in the year ranked Bristol as the 4th most targeted university by Britain's top 100 employers, ahead of Oxford and Cambridge.
Stuart Johnson, Director of Careers Service at the University of Bristol, said: "It's gratifying to see our sustained efforts reflected in this new ranking. We have worked hard to build and develop relationships with all kinds of employers, with the goal of creating excellent opportunities for our students – both while they're at university and once they've graduated.
"Bristol attracts some of the best students and produces some of the most employable graduates, something that as an institution and as a careers service we are tremendously proud of."
The QS Graduate Employability Rankings were launched as a pilot edition last year. This year's results will be presented during the QS-Apple Conference in Malaysia.
It considered responses from almost 38,000 employers, mapped the degrees and affiliations of over 20,000 high-achievers, considered 70,000 employers' connections with graduates, and evaluated over 180,000 work placement partnerships.
It's the first year the University of Bristol has submitted data.