View all news
New Head for Bristol's Vet School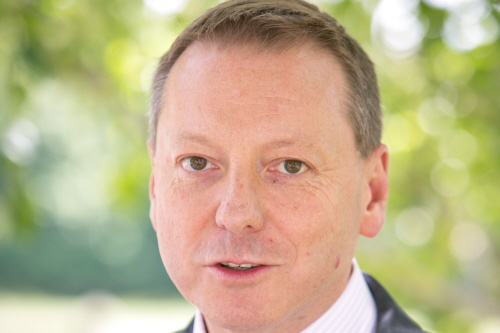 Press release issued: 23 May 2016
A veterinary surgeon who has experience across clinical, academic and commercial sectors, has been appointed as the new Head of the University of Bristol's School of Veterinary Sciences.
Professor Richard Hammond, who became Chief Executive of Langford Vets in May 2015, will from 1 August 2016 combine the Head of School role with his current position of Chief Executive of Langford Vets.
Richard joined the University of Bristol on 1 March 2013 as a Professor of Clinical Sciences and Deputy Head of School to support the implementation of the new curriculum and the management of the School. He then took on responsibility for enterprise and strategic development. Richard had formerly been part of the management team that set up the veterinary school at the University of Nottingham where he was also Head of Teaching and Learning.
Professor Hammond, talking about his new appointment, said: "Wearing these two hats will enable me to bring together the senior leadership of the academic school with the clinical and commercial services at the site in Langford. I'll be in a unique position and I'm sure the viewpoint this will provide will be of mutual benefit to both organisations over the four-year term that I'll be in post as Head of School."
Professor John Iredale, Pro Vice Chancellor: Health at the University of Bristol, added: "Under Professor Joanna Price's leadership over the last seven years, the School has undergone a transformational change and is in a very strong position to take advantage of emerging opportunities in research, teaching, and clinical service delivery. I look forward to seeing those opportunities begin to be realised under Richard's leadership in the coming years."
Qualifying as a veterinary surgeon in 1991, Richard Hammond has a broad experience across clinical, academic and commercial sectors having previously been a specialist in the area of veterinary anaesthesia and an academic clinician. He was awarded a first class honours degree in applied biology in 1987, a degree in veterinary medicine in 1991, a PhD in 1999 in the area of biochemical pharmacology and a masters in medical education in 2012. He holds both Royal College of Veterinary Surgeons (RCVS) and European Diplomas in Veterinary Anaesthesia. As well as having experience of clinical general veterinary practice, Richard has worked as part of the commercial operation of a major pharmaceutical company.
Further information
About Langford Vets
Langford Vets, the trading name of Langford Veterinary Services (LVS), is a customer focussed veterinary business providing an extensive range of specialist capabilities and a superior quality of care. All clinics are supported by highly specialised clinicians, diagnostic imagers, anaesthetists, nurses and other support staff.
Langford Vets has the largest team of American and European specialists in the south west of England and is a member of the Royal College of Veterinary Surgeons (RCVS) Practice Standards Scheme, reaching the highest recognition available in all areas.
Langford Vets is a wholly owned subsidiary of the University of Bristol.