View all news
£930,000 to develop new smoking cessation aids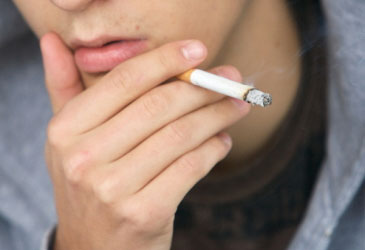 Press release issued: 13 May 2016
Chemists at the University of Bristol have been awarded £930,000 from the Engineering and Physical Sciences Research Council (EPSRC) to develop potential new aids to help smokers stop smoking.
Professor Tim Gallagher, in collaboration with Professor Adrian Mulholland (School of Chemistry) and Dr Richard Sessions (School of Biochemistry), will use a combination of synthetic chemistry, computational modelling, structural biology and pharmacology to develop potential new smoking cessation agents.
Tobacco smoking is a global killer on a huge scale. There are 1.25 billion smokers worldwide, 50 per cent of whom will die from smoking-related disease if they continue to smoke. Many want to quit.
Effective smoking cessation aids would prevent millions of premature deaths and reduce the huge burden of smoking-related illness. There is enormous demand for effective, safe and cheap smoking cessation therapies.
Professor Mulholland said: "This project will explore promising new compounds for smoking cessation. We will work directly with industrial partners who will provide expertise and testing. This provides a direct route to developing new smoking cessation therapies and bringing these new discoveries to market."
The project, 'Nicotinic Ligand Development to Target Smoking Cessation and Gain a Molecular Level Understanding of Partial Agonism', runs for three years.