View all news
How will people interact with technology in the future?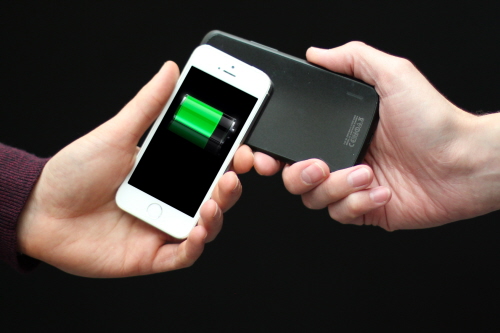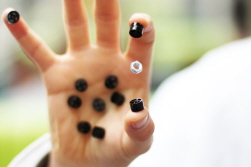 Press release issued: 9 May 2016
New research that discusses how people will interact with technology in the future will be presented this week at one of the world's most important conferences on human-computer interfaces, ACM CHI 2016, in San Jose, USA [7-12 May].
A team of researchers led by Professor Mike Fraser and Dr Anne Roudaut from Bristol University's Bristol Interaction Group (BIG) group, will present six papers at the international conference. The conference brings together researchers from universities, corporations and start-ups from across the world and could change the way people interact and collaborate in the future.
The research being presented, which could be future applications, includes:
Sustainable interaction design, cloud services and the digital infrastructure
Design-for-environment methods tend to focus on the impact of device manufacturing and use. However, nowadays significant environmental impact comes from the infrastructure which provides services the device enables. The paper, which has won a Best Paper award, offers an analysis of the different ways in which design decisions result in environmental impacts through their use of the digital infrastructure, and extend Blevis' Sustainable Interaction Design rubric to incorporate considerations of the digital infrastructure.
Investigating text legibility on non-rectangular displays
Emerging technologies allow for the creation of non-rectangular displays with unlimited constraints in shape. In this paper, the researchers investigate how to display text on such free-form displays.
PowerShake - power transfer interactions for mobile devices
Current devices have limited battery life, typically lasting less than one day. This can lead to situations where critical tasks, such as making an emergency phone call, are not possible. PowerShake is an exploration of power as a shareable commodity between mobile and wearable devices using wireless power transfer to enable power-sharing on the go. Other devices that people may have with them, such as a smartwatch or camera, may have sufficient battery to support this emergency task.
EMPress - practical hand gesture classification with wrist-mounted electromyography (EMG) and pressure sensing
Practical wearable gesture tracking requires that sensors align with existing ergonomic device forms. This paper shows that combining EMG and pressure data sensed only at the wrist can support accurate classification of hand gestures. The EMPress technique senses both finger movements and rotations around the wrist and forearm, covering a wide range of gestures.
GauntLev - a wearable to manipulate free-floating objects
GauntLev is a tool that is able to generate remote forces that would allow people to handle dangerous materials and adrift objects in zero-g environments without contact or constrictions. The research team found basic manoeuvres can be performed when acoustic levitators are attached to moving hands. A Gauntlet of Levitation and a sonic screwdriver will be presented showing their manoeuvres for capturing, moving, transferring and combining particles.
Shared language and the design of home healthcare technology
This paper explores the importance of language for the design of smart home technologies for healthcare. The research team present data gathered through an ethnographic study and through meetings with user advisory groups that show the need for a shared language that avoids the use of jargon, ambiguous words, and emotive words. A workshop with researchers who are developing smart health technologies and a focus group with end users were run, where the focus was on generating a shared language.
Dr Anne Roudaut, Lecturer from the University's Department of Computer Science and BIG group, said: "The body of research we are presenting shows that human-computer interfaces have an important role to play in how people will interact and use technology in the future."
Further information
About the Bristol Interaction and Graphics (BIG) group
The Bristol Interaction Group (BIG), based in the University of Bristol's Department of Computer Science, is united by a common interest in creative interdisciplinarity. BIG acts as a hub for collaboration between social scientists, artists, scientists and engineers to combine efficient, aesthetic and innovative design. The group is particularly interested in areas which couple the design of devices with deployment and evaluation in public settings. Members of the group have expertise in research areas spanning human-computer interaction, visual, auditory and haptic perception, visualisation and sonification, touch and gestural input, tangible interfaces, augmented and virtual reality, wearable and on-body computing, sustainable interaction design, digital engagement, interactive fabrication as well as flexible and actuated devices.