View all news
Bristol celebrates all things Francophone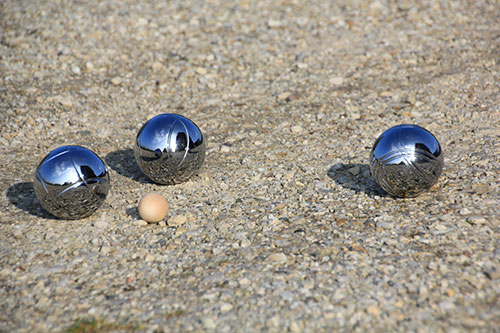 Press release issued: 11 March 2016
A taste of southern France will come to Queen Square next week when University of Bristol students and staff stage a pétanque competition in the gravel paths of the square.
The event is part of Bristol's first 'Semaine de la Francophonie', a week-long celebration of Francophone language and cultures, which will see a number of other events, including a bake-off with a difference when students will put their culinary skills to the test to bake their favourite francophone monuments.
Around 20 two-player teams will take over Queen Square on Wednesday [16 March] from 2pm to play pétanque, a form of boules that is a familiar feature of typical village squares across France and also symbolic of French culture abroad.
Hélène Duranton of Bristol's Department of French, one of the co-organisers said: "This will be a great opportunity to bring a little bit of French culture to the centre of Bristol, have a fun – and most probably competitive – game with our students and share a moment of lightness in amongst exams and essay deadlines!"
For the 'Bake a francophone monument' competition on Thursday [17 March], students have been invited to bake the francophone landmark of their choice: perhaps a gingerbread Arc de Triomphe, an Eiffel Tower in spin sugar, or a sponge Château Frontenac.
The judging panel, which includes Bristol-based food-writer Xanthe Clay, will be looking for originality of idea, visual impact, and (last but not least) taste.
Other events during the week include the UK premiere of Atlantide 14, a play inspired by letters written during World War One which tell the story of three women in the South of France, far from the battlefields of war but deeply touched by the destruction of the world as they once knew it.
Written by Corinne François-Denève, a lecturer at the Université de Versailles-Saint-Quentin-en-Yvelines, the play will be performed by an all-student cast, directed by fourth year student Genevieve Morris, at the Simon Pegg Theatre (Student Union's Richmond Building) on Monday and Tuesday [14 and 15 March] at 8pm. The performance will be surtitled. Tickets are available at https://www.ubutheatre.com/atlantide14/
Originally created in 1995 by the French Ministry for Culture and Communication, the Semaine de la Francophonie is an international event which aims to promote the French language as well as Francophone cultures around the world.
Hélène Duranton said: "The Semaine de la Francophonie is a celebration of the cultures and countries which have the French language in common. We at the University of Bristol wanted to promote this diversity and bring the people who love this language together.
"In the context of the EU referendum, it's also a great opportunity to celebrate another culture, in its European and international form, and celebrate our diversity as well as our spirit of community.
"For us, this week is all about opening our students' eyes to other cultures than the French culture 'from France'. It's about experiencing the diversity of the French-speaking world and its rich and diverse communities."
Visit Bristol Semaine de la francophonie 2016 on Facebook
Follow FrancophoneBristol on Twitter
Further information
The International Organisation of La Francophonie represents one of the biggest linguistic zones in the world. Its members share more than just a common language. They also share the humanist values promoted by the French language.