View all news
Bats at the ready for 24-hour ping pong in aid of Sport Relief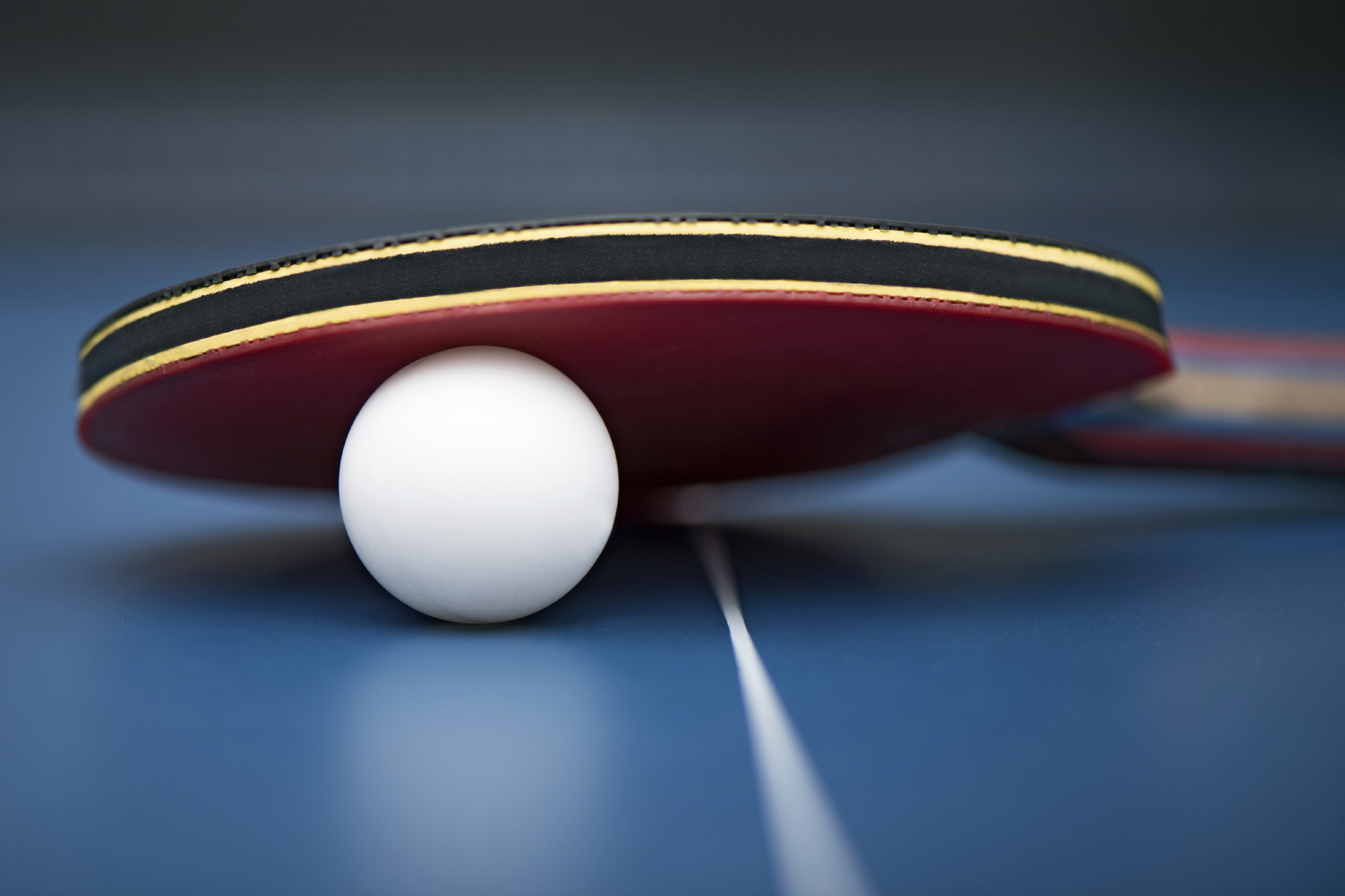 Press release issued: 16 March 2016
Engineers from the University of Bristol are getting ready for a 24-hour pingpongathon in aid of Sport Relief. The event is the final fundraising activity for the charity by the Faculty of Engineering.
The event, which is organised with the help of Table Tennis England, Bristol and District Table Tennis League and the University's Student Table Tennis Club, will run from 1pm on Thursday 17 March, in the lower atrium of the Merchant Venturers Building, until 1pm on Friday 18 March, the start of Sport Relief weekend.
A highlight of the event, tomorrow [Thursday 17 March] at 7pm, will be a one-off England vs Wales international challenge match between Bristol-based Welsh international Dean Cundy and local league champion and international coach, Dan Ives. The loser has agreed to donate £10 to Sport Relief.
There will also be exhibition matches from student stars and local table tennis league players, challenges between colleagues and fun and games for players of all abilities, including complete novices.
Alan Champneys, Professor of Applied Non-linear Mathematics and self-styled "Professor of Ping", who was the brains behind the event, said: "I have a passion for table tennis. It's a fun social game that provides good exercise for all ages, and also enables healthy competitiveness. I also like the mechanics of all the spins and bounces, which is close to my main research area. Although I have yet to do anything professionally that is table-tennis related - perhaps one day."
The event have been organised by Tom Davies, receptionist at the Merchant Venturers School of Engineering, supported by the managers of the two Schools of Engineering, Rebecca Mear and Elizabeth Gardner, and their teams. Rebecca and Elizabeth have agreed to face off against each other, as have the Heads of Department and Heads of School.
Tom Davies added: "I am new to the Faculty, yet I am overwhelmed by the positive response we have had to our call for volunteers to keep the rallies going for 24-hours. I am also extremely grateful to a local pizza company who have agreed to provide free food for the 2am shift.
"Fundraising for Sport Relief helps people in need both in the UK and abroad and here in Engineering we want to raise as much money as we can."
The event is part of a range of activities the Faculty has been doing in the run-up to Sport Relief, such as a "star on a reasonably priced spin bike" lunchtime competition and a month-long pedometer challenge, administered by Katie Riley, a modern apprentice in the Queen's School of Engineering. Winners of all competitions will be announced in a presentation event at the end of the pingpongathon on Friday 18 March.
To make a donation, text ENGF80 plus either £5 or £10 to 70070 or donate via the Faculty's Just Giving Page.
Further information
The 24-hour pingpongathon will take place in the Faculty of Engineering, Merchant Venturers Building (MVB) atrium, Woodland Road, Bristol.
About Sport Relief
Sport Relief is a biennial charity event from Comic Relief, in association with BBC Sport, which brings together the worlds of sport and entertainment to raise money to help vulnerable people in both the UK and the world's poorest countries