View all news
Dogs needed to help with arthritis study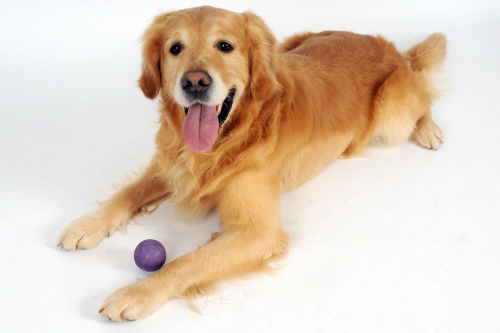 Press release issued: 14 March 2016
Owners of dogs with osteoarthritis are helping with the Bristol Dog Arthritis study being run by the University of Bristol, but even more dogs are needed to help.
The study, led by Dr Jo Murrell and a team of animal health and welfare specialists in the School of Veterinary Sciences, hopes to find out more about osteoarthritis in dogs and ultimately improve the treatment of pain for dogs with this condition.
Osteoarthritis (OA), also known as degenerative joint disease, is the most common type of arthritis seen in dogs and is a very common cause of chronic pain, particularly in older dogs. OA is a slowly progressing disease where the cartilage in the dog's joints breaks down and causes friction between the bones resulting in outgrowths of new bone forming, known as osteophytes.
The aim of the study is to increase researchers knowledge about pain related to OA in dogs; investigate the relationship between pain patterns in OA and pain mechanisms; and translate the idea of personalised pain therapy from people to dogs.
Owners will be asked to bring their dog to the Vet School for four separate visits over a two-month period. The visits involve a full clinical examination by a vet, which will include a physical and orthopaedic examination; routine health screening of a blood sample; X-rays to assess the severity of osteoarthritis, sensory testing and follow-up advice about optimising pain treatment for the condition, provided by European specialists in surgery and pain management.
Megan Goff, Research Technician in Companion Animal Studies, said: "We are delighted with the number of people who have registered their dog with the Bristol Dog Arthritis study but we need more dogs to take part. The more dogs that take part the more we can learn about the condition.
"By participating in the study your dog will increase our knowledge about pain associated with osteoarthritis and make a contribution towards improving the lifelong welfare of the millions of dogs with osteoarthritis throughout the world."
Members of the public who own a dog over 12 kilograms in weight who is showing signs of OA in the hind limbs (hips and knees), such as stiffness after walks, less willingness to exercise or play, difficulty jumping or climbing stairs, and who live in Bristol and the surrounding area, are invited to take part in the project by emailing dogarthritis-study@bristol.ac.uk or telephoning 07510 993922.
More information and a screening questionnaire can be found on the Bristol Dog Arthritis study website.
The research team are also looking for healthy dogs over six years of age and of the same weight that are fit and well to participate in the study as a part of the control group.
Further information
Case study - Rachael and Max
Max is an 11-year-old English Bull Mastiff who was showing signs of stiffness including difficulty jumping up into the car or onto the sofa and stiffness after walks.
Owner Rachael, a veterinary nurse, found out about the study and decided to volunteer Max to participate in the research.
"I came to be Max's owner when he was two-years-old – this was in my first practice as a trainee vet nurse and unfortunately his owners no longer wanted him. He has really been the greatest dog I could ever wish for. Max started developing signs of arthritis at least three years ago and has been on various joint foods and pain relief since."
Rachael said: "I heard about the study through Facebook and decided to put Max forward to see if he would benefit other arthritic patients in the future. I also wanted to see what exactly was wrong with him and what else I could do to help him. I have enjoyed being part of the study and Max made me proud as he was a star!
"I have told people about the study and I would definitely recommend others to participate. Most days Max leads a normal life playing with his best friend Ashka the Husky and daily walks, more recently he has lost muscle over his hips so is now receiving hydrotherapy after pain management advice from Jo Murrell and he is doing well! He has had two sessions so far, and already has doubled his speed and distance.
"Max will be 12-years-old next month, which is incredible for an English Bull Mastiff, but I am mindful of his weight as I know as a veterinary nurse this will impact on his joints! I'm pleased Max took part in this study as the research carried out may help patients in the future."