View all news
Policy Press celebrates 20 years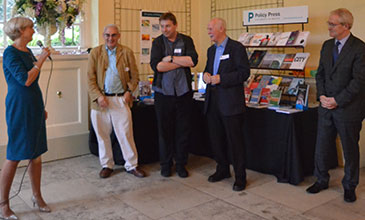 1 July 2016
The Policy Press, an award-winning publisher based in the University's Faculty of Social Sciences and Law, recently celebrated its 20th anniversary with a reception at Goldney Hall.
Attendees included Vice-Chancellor Professor Hugh Brady, Policy Press authors and editors, current and former staff and suppliers, and members of the University. Speeches about the achievements and success of the Policy Press were given by Professor Brady, Dean of the Faculty Professor Paddy Ireland, longstanding author Professor Danny Dorling, former journal editor Professor Randall Smith and Policy Press Director Alison Shaw.
The Policy Press also recently won the 2016 IPG Frankfurt Book Fair Academic and Professional Publisher award.