View all news
Nobel Prize winner announced as the University of Bristol's next Chancellor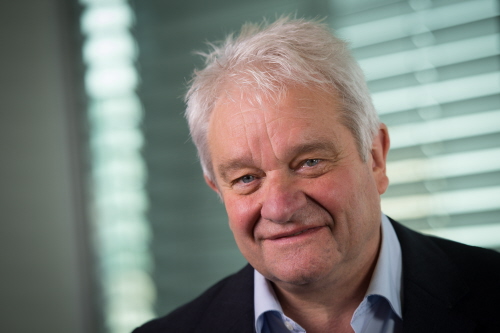 Press release issued: 11 July 2016
Sir Paul Nurse, a Nobel Prize-winning scientist and former President of the Royal Society, has been named as the next Chancellor of the University of Bristol.
Sir Paul Nurse is a leading geneticist and cell biologist. His work on the control of cell division underpins current research into treatments for cancer and other serious diseases.
His contributions to science were recognised with a knighthood in 1999. In addition, Sir Paul's endeavours relating to the discovery of molecules that regulate the cell cycle saw him jointly awarded the Nobel Prize for Physiology or Medicine in 2001.
Sir Paul said: "I am delighted to have been appointed to be the University of Bristol's next Chancellor. Bristol is a university I have long admired: high quality research, great students and excellent academics on its staff. It is an exciting time for the University with a new Vice-Chancellor at the helm.
"Universities have a huge role to play in providing knowledge and thought leadership as we develop a future Britain. I see Bristol at the forefront of that challenge, and I look forward to working with them through it."
Over the last 30 years, Paul has held many senior research leadership roles, including Director General of the Imperial Cancer Research Fund (now Cancer Research UK).
He was appointed President of Rockefeller University in New York in 2003 and was elected as President of the Royal Society in 2010 for a five-year term.
Since 2011, Sir Paul has been the Director and Chief Executive of the Francis Crick Institute, a London-based biomedical research institute which opened in 2015.
As Chancellor of the University of Bristol, Sir Paul will be the ceremonial head of the institution and play an important ambassadorial role, nationally and internationally.
Professor Hugh Brady, Vice-Chancellor and President of the University of Bristol, said: "To have Sir Paul as our next Chancellor is a huge honour. He has an unrivalled standing in the scientific community, in this country and across the world. He will be a great inspiration for our staff and students.
"His appointment could not have come at a more opportune time, as we look forward to the next step in our University's development and steer our path through the aftermath of the recent UK referendum. I very much look forward to working with him over the coming years."
Sir Paul will succeed The Right Honourable the Baroness Hale of Richmond, who has been Chancellor since 2004.
Lady Hale, the UK's most senior female judge and the first woman Law Lord, will retire from the role at the end of this year and Sir Paul will be officially installed as the University's eighth Chancellor in the New Year.
Previous Chancellors include Sir Winston Churchill and Nobel Prize-winning scientist Professor Dorothy Hodgkin.
Sir Paul's appointment was formally approved at a meeting of the University's Court on Saturday [9 July] and follows a nomination process earlier in the year.