View all news
Government announces new consortium to lead R&D in secure wireless connectivity for autonomous vehicles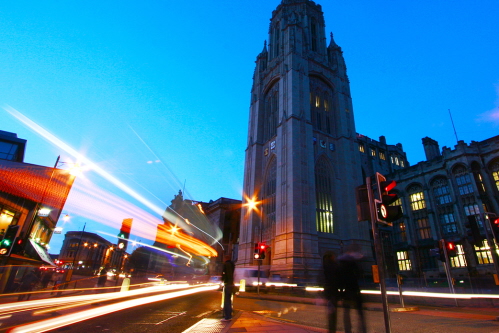 Press release issued: 1 February 2016
The University of Bristol, as part of the FLOURISH consortium, is among the recipients of the government's multi-million pound research grant to fuel development in user-centric autonomous vehicle technology and connected transport systems. The new programme, co-funded by the UK's innovation agency - Innovate UK, will focus on the core themes of wireless connectivity, security and customer interaction.
The three-year project, worth £5.5 million, seeks to develop products and services that maximise the benefits of connected and autonomous vehicles (CAVs) for users and transport authorities. By adopting a user-centred approach, FLOURISH will achieve a better understanding of consumer demands and expectations, including the implications and challenges of an ageing society.
Business Secretary Sajid Javid said:"Our cars of the future will be equipped with the technologies that will make getting from A to B safer, faster, and cleaner. They will alert drivers of accidents ahead and be able to receive information from their surroundings about hazards, increasing the safety of drivers, passengers and pedestrians.
"Britain is a world-leader in research and development in such innovative technologies which improve lives and create opportunity for all. That is why this government has protected the £6 billion science budget and is providing up to £20 million for these projects."
Importantly, FLOURISH will address vulnerabilities in the technology operating CAVs, with a focus on the critical areas of cyber security and wireless communications. The consortium will seek to develop tools that enable vehicle manufacturers and transport authorities to provide a safe and secure CAV network.
Professor Andrew Nix, Dean of Engineering at the University of Bristol, said: "FLOURISH is an exciting addition to our portfolio of research in the field of connectivity for autonomous vehicles. I particularly welcome the opportunity to work closely with Bristol City Council and South Gloucestershire Council on the real-world testing of autonomous vehicles. This will leverage existing investment in the Bristol city region to expand our validation and test capabilities in both urban and inter-urban networked environments."
Dr Robert Piechocki, Senior Lecturer in the Department of Electrical and Electronic Engineering, Communication Systems and Networks research group and the University's project lead, added: "Autonomous cars will rely on secure and dependable wireless connectivity to enable advanced automotive safety features. The FLOURISH project is a unique opportunity to showcase our research that will underpin mobility services of the future."
Dr Theo Tryfonas, Senior Lecturer in Systems Engineering and a member of the project team, commented: "The security and trustworthiness of wireless connectivity, as well as the privacy of the relevant data in terms of location, personally identifiable attributes of users etc. will be a factor of paramount importance for their successful operation and integration with society."
The project will bring together industry and academic experts in the fields of wireless connectivity, cyber security, data innovation, human factors and social research.
The following organisations are members of the FLOURISH consortium:
Atkins: lead partner providing project management, transport modelling and intelligent mobility expertise;
Age UK: a 'critical friend' to FLOURISH supporting the social research elements of the project;
Airbus Group Innovations: will provide cyber operations and data fusion expertise;
Aiseedo: neural network technology specialists supporting the development of a data fusion engine;
AXA: will provide insurance and legal expertise;
Bristol City Council and South Gloucestershire Council: will provide on-road trials support and drive local community engagement;
Designability: to develop Human Machine Interfaces for use in a vehicular environment;
Imtech: to develop technology for use by connected vehicles and a city based dashboard for use by network operators;
OPM Group: will provide research support relating to user needs and public acceptance;
Transport Simulation Systems: to develop a network operations model for modelling CAVs;
Transport Systems Catapult: to develop Human Machine Interfaces and provide support for simulated and real world testing;
University of Bristol: will develop secure wireless communication systems and support real-world testing;
University of the West of England: will conduct research into user needs and experiences of CAVs and will be involved in the development of Human Machine Interfaces.
Dr John McCarthy from ATKINS and project lead, said: "FLOURISH, though by its nature and design is both in-depth and wide reaching, is simple in its intention and focus. FLOURISH is about empowerment. We will aim to empower two distinct but overlapping areas of vulnerability, the person and the technical systems that it connects to. FLOURISH seeks to enhance mobility options for older people and those facing mobility challenges through the development of user-centric CAVs."
The FLOURISH project will further advance the South West region as an independent centre for the development and testing of connected and autonomous vehicles.
Further information
About Innovate UK
Innovate UK is the new name for the Technology Strategy Board – the UK's innovation agency. Taking a new idea to market is a challenge. Innovate UK funds, supports and connects innovative businesses through a unique mix of people and programmes to accelerate sustainable economic growth.