View all news
Inspiring the Ada Lovelaces of the future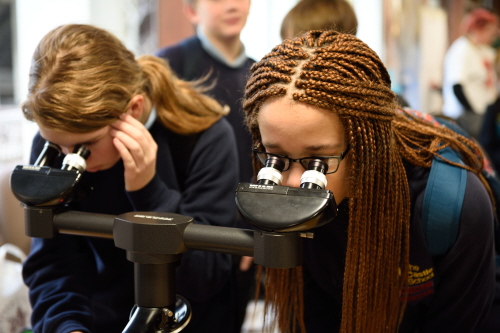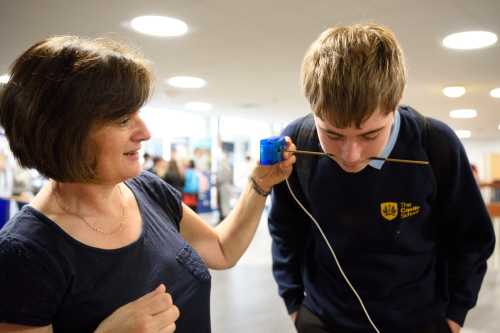 Press release issued: 19 November 2015
Over 100 pupils from across Bristol have been given a taste of higher education as the University of Bristol aims to inspire the Ada Lovelaces of the future.
A special outreach day took place yesterday [18 November] in celebration of Lovelace, who is widely considered to be the world's first computer programmer.
This year has seen events held around the world to mark the 200th anniversary of her birth, and she was one of only two women to be featured on the new UK passport which was unveiled earlier this month.
In a bid to encourage young people to consider careers in STEMM subjects (science, technology, engineering, maths and medicine), Bristol University invited more than 100 youngsters aged 12 to 14 to learn about Lovelace and see for themselves what studying at university is like.
Students had the opportunity to 'feel like a vet' by using a virtual reality cow, see a robot demonstration, understand nanophysics using lego and witness DNA being extracted from a kiwi fruit.
As part of the day, groups of students were asked to create a poster celebrating their favourite female scientist, mathematician, engineer or technologist.
They presented their posters to a panel of academics before the overall winners were declared by Professor Hugh Brady, the University's Vice Chancellor. Winners received a Raspberry Pi - a credit-card sized computer which can be easily programmed and plugs into TVs and keyboards.
Professor Brady said: "Positive female role models are important if we are to change some of the preconceptions about who becomes a scientist, technologist, engineer or mathematician, both among the public, young girls, their teachers and parents.
"Hopefully this visit to the University has left the students feeling not only inspired by these subjects but excited about what they can achieve in the future."
Aside from the poster competition and demonstrations, students learnt about Ada Lovelace, played a 'name the female scientist quiz' and hear an inspirational talk from Dr Suzi Gage, a post-doctoral researcher at the University who writes for The Guardian.
Airbus and Toshiba sponsored the prizes and had representatives there on the day.
Students from Hans Prince Academy, St Katherines, Henbury School, John Cabot Academy, Oldfield School, Abbeywood School, Worle School, The Castle School, Colstons School, Gordano School and Fairfield High School took part.