View all news
Study to use 'peer power' to address low physical activity rates in teenage girls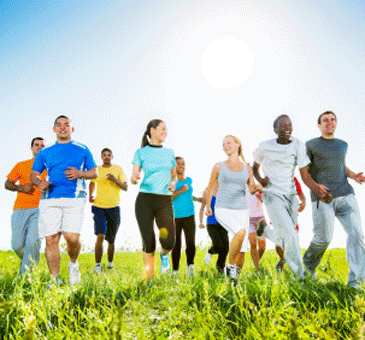 Press release issued: 5 March 2015
A new study aiming to tackle low-levels of physical activity among adolescent girls by introducing peer-influences has been awarded £528,000 from the National Institute of Health Research [NIHR]. The project, led by Dr Simon Sebire at the University of Bristol, will assess whether a peer-led intervention could address the steep reduction in teenage girls doing physical activity by the time they start secondary school.
Year 8 girls [aged 12 to 13] from six schools in South Gloucestershire and Wiltshire will take part in the PLAN-A feasibility trial. Students in intervention schools will nominate "peer-supporters" who will then receive training about how to be active, overcoming the barriers that adolescent girls face in being active and communication skills. The girls will then return to school to informally diffuse positive messages about physical activity to their peer group.
Dr Sebire, Lecturer in the Centre for Exercise, Nutrition & Health Sciences based in Bristol's School for Policy Studies, said: "New interventions are needed to develop ways to empower young people, especially girls, to adopt an active lifestyle that they can enjoy and sustain through their adolescence and into adulthood. Peers can have a strong influence on adolescents' decisions of whether and how to be active, so if we can harness the power of peer-influences then this could be a new way to inspire girls to become and stay active."
The PLAN-A project (Peer-Led physical Activity INtervention for Adolescent girls) is run in collaboration with the Bristol Randomised Trials Collaboration, and co-applicants in the University of Bristol's School of Social and Community Medicine and the College of Medicine at Swansea University. Research will be undertaken with the support of DECIPHer, (the Centre for the Development and Evaluation of Complex Interventions for Public Health Improvement) a UKCRC Public Health Research Centre of Excellence.
The project will follow the peer-led intervention model of the successful DECIPHer-ASSIST smoking prevention programme. There will be no costs to participating schools.