View all news
Bristol ChemLabS sets new Outreach record in China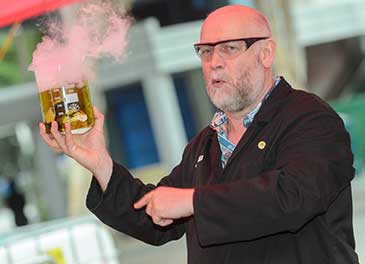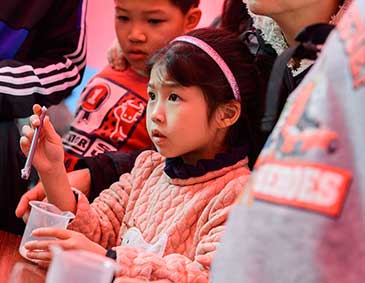 12 March 2015
Bristol ChemLabS, part of the School of Chemistry at the University of Bristol, pulled out all the stops to set a new Outreach record at the 2015 Science Alive public engagement event in Hong Kong earlier this month.
The Outreach team delivered 26 20-minute lecture demonstrations on atmospheric chemistry to 3,542 members of the public and hands-on chemistry sessions for 900 young students over the course of the two-day event. The activities took place in the public piazza of the Hong Kong Science Museum under a giant, pink, inflatable canopy.

Chemistry was the theme of Science Alive 2015, which was sponsored by the British Council, the Hong Kong Leisure and Services Department, Hong Kong Science Museum, the HKSAR Education Bureau, HKedCity and the Croucher Foundation.
The Bristol ChemLabS team comprised PhD student James Fothergill, Outreach Teaching Assistant Dr Alison Rivett and Bristol ChemLabS School Teacher Fellow and Director of Outreach, Tim Harrison. Eight first-year undergraduate scientists from the Hong Kong University of Science and Technology assisted with the practical work and language translations.
Professor Nick Norman, Head of the School of Chemistry, said: 'This is yet another example of the outstanding work of the award-winning Outreach team at Bristol. They can be rightly proud of their achievements and I am certain that all the students who attended will have been delighted with their experience.'
The Bristol team was supported by a portfolio of Natural Envrionment Research Council (NERC) grants held by the School of Chemistry's Atmospheric Chemistry Research Group.