View all news
University and Bristol SU gain Responsible Futures accreditation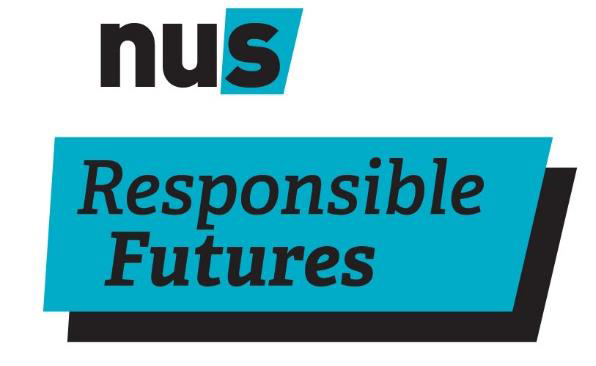 3 June 2015
The University of Bristol and Bristol Students' Union (Bristol SU) have gained recognition for their commitment to social responsibility and sustainability under the National Union of Students' (NUS) Responsible Futures initiative.
Responsible Futures certification is awarded to a whole institution in recognition of fostering an environment where sustainability learning can thrive. The Responsible Futures accreditation mark provides a framework that helps cultivate top-down institutional change and develop social norms around sustainability education in both the formal and informal curriculum.
The University, in partnership with Bristol SU, was one of 13 UK institutions to take part in the recent Responsible Futures pilot, coming out with full accreditation at the end of a two-day audit that assessed how well the partnership embeds social and environmental responsibility in all its activities.
As part of the audit, each institution submits a workbook outlining its compliancy against 40 sustainability criteria, ten of which are mandatory. The second component of the audit comprises interviews with key individuals, including one representative from the students' union and from the institution, and the third element involves student focus groups. Audits are undertaken by NUS external experts and students trained by the NUS.
The auditors praised Bristol for its strategic approach to embedding educational sustainable development (ESD) across the institution, stating that levels of knowledge and understanding of ESD were 'well developed and robust'. The Bristol SU Get Green initiative was singled out for its part in changing the way in which the Students' Union understands and operates around sustainability. There was agreement among the auditors that, as one focus group participant put it, 'Bristol, compared with other universities, seems to care more about sustainability'.
Hannah Tweddell, Sustainability and Engaged Learning Coordinator at Bristol SU, who led the Bristol Responsible Futures project, said: 'There is always more work to be done, but we're delighted to have received recognition for our efforts to ensure that students encounter sustainability in all areas of activity during their time here, especially during Bristol's year as European Green Capital.'
Chris Willmore, Reader in Sustainability and Law and Academic Director of Undergraduate Studies, leads the University Green Academy team which is developing education for sustainable development across the University curriculum, and was one of the staff members audited for Responsible Futures. 'It's great to see Bristol recognised as a leading university on sustainability, and for our staff and students to receive such a positive endorsement of their work in this area,' she said. 'Being the first university in the country to be audited under this new national scheme was really exciting; being audited by students was scary, but meant that the process was really rigorous.'
The accreditation is valid until June 2018, when another audit will be required to revalidate certification.
The Responsible Futures project has been guided by research undertaken by the NUS and the Higher Education Academy that shows that 60% of students want to learn more about sustainability.
Further information
European Green Capital 2015
Throughout 2015, the eyes of the world will be on Bristol as the European Green Capital – the first UK city to win this prestigious award. We won not just because of our plans for the future, but because of the city-wide efforts Bristol people and businesses are already making towards creating Britain's most liveable city. This award is a once-in-a-lifetime opportunity to really show what's possible when everybody comes together to inspire, create and achieve a shared vision for Bristol. The ultimate aim is to create a blueprint for city living worldwide. Many organisations and groups are involved in activities for this special year, but the work is spearheaded by Bristol2015, a limited company set up specifically to deliver Bristol's ambitions as European Green Capital.
The green University
The University of Bristol is proud to be part of this city-wide initiative, working to make Bristol a world leader in sustainability as part of its designation as European Green Capital 2015. Contributing to the collective efforts of 800+ organisations, the University is hosting a series of events, seminars and public debates that build on its long-standing ambition to generate knowledge that will shape a future we all want to live in. From research that tackles the challenges of environmental uncertainty, through to voluntary community projects that see students engaging with local residents, the University has pledged its commitment to the lasting legacy of #Bristol2015.
For further details, and to join the conversation, visit us @BristolUni and bristol.ac.uk/green-capital or bristol.ac.uk/university/sustainability
We tweet as #UoBGreen