View all news
Getting smarter all the time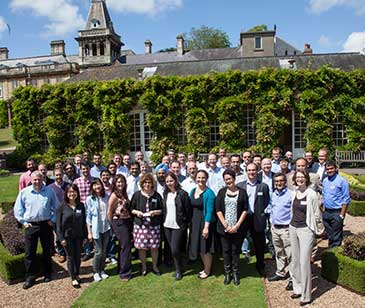 29 July 2015
Scientists from the University of Bristol joined representatives from other academic institutions, industry, local government and standards bodies earlier this month at a day-long workshop on high performance networks designed to accelerate the development of smart cities.
The ONF, a non-profit organisation dedicated to accelerating the adoption of open Software-Defined Networking (SDN), joined forces with Bristol Is Open to host the workshop.
Bristol Is Open is a collaboration between the technology, media and telecommunications industries, universities, local communities, and local and national government. The project is governed by a joint venture between the University of Bristol and Bristol City Council and aims to explore developments in software, hardware and telecom networks that enable more interaction between people and places and more machine-to-machine communication, to host the workshop. 'The Software Defined Network – Programmable City', held at the University's Goldney Hall, featured more than 20 speakers. Forty-two delegates, comprising experts at the forefront of developments in SDN, attended the event.
The emergence of smart technology in cities such as Bristol is generating many Internet of Things (IoT) requirements that industry organisations like ONF will implement in future protocol development. As one of the leaders in liveable smart cities, Bristol will be an important resource for ONF, as a source of information in the development of future IoT specific standards.
Dan Pitt, Executive Director of the Open Networking Foundation, said: 'ONF emphasises an open, collaborative development process driven from the end-user perspective. Bristol is leading the way in deploying an open source software-defined network architecture at city-scale. Over time we expect this to lead to an extremely agile and dynamic, cost-effective, and adaptable architecture that gives unprecedented programmability and control.'
Dimitra Simeonidou, Bristol Is Open's Chief Technology Officer and Professor of High Performance Networks at the University of Bristol, said: 'Since the outset, Bristol is Open has been committed to providing an open, technology-agnostic environment. We are close to bringing this live. We are offering an SDN-controlled city infrastructure to innovators so they can learn how to programme and deliver new smart city experiences. Cloud services and IoT standards developed by Hypercat and FiWare will enable the community of developers in Bristol to collaborate and scale smart city applications.'
Inder Monga, the Deputy of Technology for the Scientific Networking Division at Lawrence Berkeley National Laboratory and one of the keynote speakers at the workshop, said: 'The Bristol Is Open initiative is the first program of its kind to blend cutting-edge network innovations with a geographical community. I am excited to see the new possibilities and pathways that become open to the citizens of Bristol with this smarter, programmable Internet infrastructure.' Monga also serves as the Chief Technology Officer of ESnet, a DOE user facility that has been a thought leader in programmable network technologies and serves the US Department of Energy with a dedicated network for science.
Speakers at the day-long workshop were:
Justin Anderson, Chairman and CEO Flexeye, & Hypercat
David Butler, Senior R&D Engineer, BBC Research and Development
Ramon Casellas, Senior Researcher, CTTC
Mischa Dohler, Head of the Centre for Telecoms Research, King's College London
Ray Le Maistre, Editor-in-Chief, Light Reading
Jorg-Peter Elbers, Vice-President of Advanced Technology, ADVA Optical Networking
Sergi Figuerola, Chief Technology and Innovation Officer, i2CAT
Simon Fletcher, Senior Group Manager of Products, NEC
Stace Hipperson, founder and CEO, Hyperglance
Andrew Lord, Head of Core Optics Research, British Telecom
Inder Monga, Division Deputy for Technology and Chief Technology Officer, ESnet
Armin Mayer, Marketing Leader, GE Lighting, EMEA
Professor Andrew Nix, Dean of Engineering, University of Bristol
Rich Pancost, Director of Cabot Institute, University of Bristol
Nick Parson, CTO and Vice-President of Engineering, Polatis
Dick Penny, Managing Director, Watershed
Dan Pitt, Executive Director, Open Networking Foundation
David Salmon, Research Support Unit Manager, Jisc/Janet
Dimitra Simeonidou, Chief Technology Officer, Bristol Is Open
Nick Sturge, Centre Director, Engine Shed
Dirk Trossen, Principal Engineer, Interdigital
Paul Wilson, Managing Director, Bristol Is Open