View all news
Make it digital at the Bristol Harbour Festival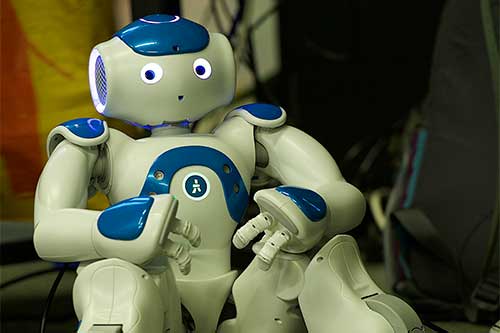 Press release issued: 15 July 2015
With the UK facing a national skills shortage in electrical and electronic engineering and computer science, researchers from the Bristol Robotics Laboratory (BRL) will be inspiring a new generation of robotic pioneers at the Bristol Harbour Festival this weekend [Saturday 18 July] as part of the BBC Make it Digital initiative.
Drs Corra Boushel and Paul Bremner from BRL, a collaboration between the University of Bristol and UWE Bristol, will explain at a free event the science, engineering and social role of robotics and visitors will have the opportunity to see some of the cutting-edge technology used at BRL.
Make it Digital, the BBC's flagship education focus for 2015, is a major UK‐wide initiative to inspire a new generation to get inspired with coding, programming and digital technology.
As part of the initiative the BBC and partners recently launched the BBC micro:bit – a pocket-sized, codeable computer that allows children to get creative with technology. In the BBC's most ambitious education initiative for 30 years, up to one million devices will be given to every 11 or 12 year old child in year 7 or equivalent across the UK, for free.
The BBC micro:bit, building on the legacy of the 1980s BBC Micro project, aims to encourage young people to get engaged with digital, develop core skills in science, technology and engineering and unleash a new generation of digital makers, inventors and pioneers.
TeenTech are one of the partners in the Make it Digital and micro:bit initiatives and the BRL has produced a film with TeenTech that showcases young researchers together with innovative BRL projects.
Dr Corra Boushel said: "The robotics industry is predicted to be worth about £70 billion by 2025 and there will be many opportunities for the next generation from designing new types of robots to meet new challenges in areas such as, healthcare, transport, manufacturing and services. Informal events, like the Harbour Festival, play an important role in educating young people and our aim is to make robotics fun and accessible to everyone."
The BBC micro:bit is a pocket-sized computer that you can code, customise and control to bring your digital ideas, games and apps to life. It measures four centimetres by five centimetre, will be available in a range of colours, and is designed to be fun and easy to use. Something simple can be coded in seconds – like lighting up its LEDs or displaying a pattern – with no prior knowledge of computing. All that's needed is imagination and creativity.
Further information
Drs Corra Boushel and Paul Bremner from the Bristol Robotics Laboratory (BRL) will be speaking at the Bristol Harbour Festival on Saturday 18 July at 3.30 pm as part of the BBC Make it Digital at The Grove, Bristol.
The Bristol Harbour Festival will take place from Friday 17 to Sunday 19 July.