View all news
From backbench to lab bench: MP meets Bristol researchers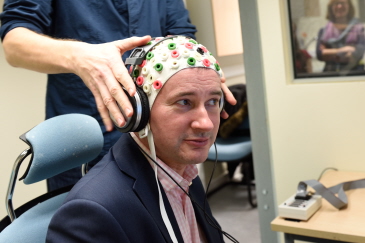 Press release issued: 6 February 2015
A Bristol MP swapped legislation for a lab coat when he visited the University of Bristol to learn more about the pioneering public health work taking place in the city.
Stephen Williams, MP for Bristol West, stepped into the future when he was shown a specially designed house which is being used to develop sensors to diagnose and help manage health conditions.
He also saw the work being undertaken in the Tobacco and Alcohol Research Group's (TARG) carbon dioxide lab, where researchers are exploring the effects of anxiety on performance and health.
The University is one of only a few research institutions in the country to have a fully equipped CO2 laboratory, and TARG is leading the way in using this anxiety induction tool in psychological research.
The unique insight is part of a pairing scheme run by the Royal Society, which sees him shadow the work of an academic and vice-versa.
Dr Angela Attwood, from the University of Bristol's School of Experimental Psychology, has already spent four days in Westminster learning more about Mr Williams' work.
She said: "The Royal Society Pairing Scheme aims to build bridges between parliamentarians and scientists, so that MPs can become more informed about science issues and scientists can get a better understanding of how science informs policy.
"During my time shadowing Stephen in Westminster, I learned a lot about the structure of parliament, the raising of bills and importantly how science can and should influence policy. Stephen has a keen interest in public health so hopefully he's come away from his visit with a better idea about the work we do and its importance for the future."
After first seeing work being undertaken in laboratories, Mr Williams was given a guided tour of a house being used as part of the Sensor Platform for Healthcare in a Residential Environment (SPHERE) project to illustrate how research can be used in real-life settings.
The £12million study, funded by the Engineering and Physical Sciences Research Council (EPSRC) and led by SPHERE Director Professor Ian Craddock, will use advanced engineering solutions to detect abnormal changes in people's physical activity, gait and mood to develop a system of sensors for homes.
It could also be used at home as an early warning system to prevent long-term health conditions such as heart disease, dementia and diabetes as well as depression and obesity.
Further information
About the Royal Society
The Royal Society is a self-governing Fellowship of many of the world's most distinguished scientists drawn from all areas of science, engineering, and medicine. The Society's fundamental purpose, reflected in its founding Charters of the 1660s, is to recognise, promote, and support excellence in science and to encourage the development and use of science for the benefit of humanity.

The Society's strategic priorities are:
Promoting science and its benefits
Recognising excellence in science
Supporting outstanding science
Providing scientific advice for policy
Fostering international and global cooperation
Education and public engagement
Further information about the Royal Society Pairing Scheme, as well as case studies, can be found online.
About the Tobacco and Alcohol Research Group (TARG)
TARG is a diverse group of researchers who are engaged in a wide range of health related research, with particular focus on drug use and mental health. They are part of the MRC funded Integrative Epidemiology Unit (IEU) at the University of Bristol, who use innovative methodologies to investigate the causes and consequences of health behaviours and disease.
About SPHERE
SPHERE (Sensor Platform for HEalthcare in a Residential Environment) is an interdisciplinary research collaboration (IRC) funded by the EPSRC and led by the University of Bristol, together with the Universities of Southampton and Reading. The £12 million project, which focuses on developing sensor systems to monitor health and wellbeing in the home, is working in partnership with Bristol City Council, IBM, Toshiba and Knowle West Media Centre (KWMC).