View all news
Free online resource launched for evidence-based veterinary medicine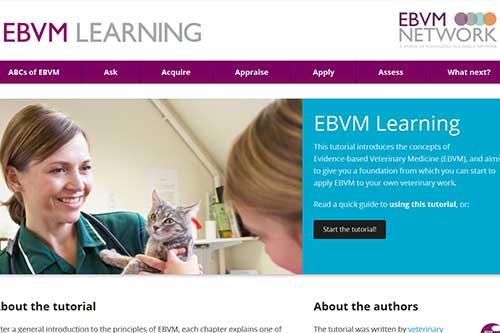 Press release issued: 7 December 2015
A free online teaching and learning resource aimed at making evidence-based veterinary medicine (EBVM) accessible to the veterinary profession worldwide has been launched by the EBVM Learning Consortium.
The online tutorial, funded by the RCVS Knowledge Target Grants initiative and led by Dr Kristen Reyher at the University of Bristol along with Drs Rachel Dean and Marnie Brennan from the Centre for Evidence-based Veterinary Medicine at the University of Nottingham, begins with an introductory module and then focuses on the five key areas of EBVM:
Ask - how to formulate answerable questions;
Acquire - how to obtain relevant information;
Appraise - how to evaluate the available evidence;
Apply - how to apply the evidence to clinical practice;
Assess – how to measure the effect of any implemented changes.
The learning resource, which can be used on various platforms and devices, is suitable for students and practitioners for self-study, and can be used as a stand-alone tutorial or as individual teaching modules to support other EBVM teaching or continuing professional development.
The online tutorial uses best educational practice and includes formative multiple choice questions, short tasks and recommendations for further study. It is intended to be a source of knowledge, bringing together the essentials of EBVM into one place, and highlights many other links to resources and organisations that are available to further learners' knowledge about the subject.
Dr Kristen Reyher, Senior Lecturer in Farm Animal Science in the School of Veterinary Sciences, who led the project team, said: "It is hoped that the development of this resource will increase awareness of EBVM in the veterinary profession, and allow practitioners the opportunity to develop the skills needed to utilise EBVM in everyday clinical practice."
Future aims of the project team include designing methods of cataloguing and disseminating evidence synthesis to support clinical decision-making and evidence-based veterinary practice, improving and standardising the teaching of EBVM to undergraduate and postgraduate students at veterinary schools internationally, and building a community of practice in this area.