View all news
Bristol flies the flag in Beijing as Chinese students graduate in style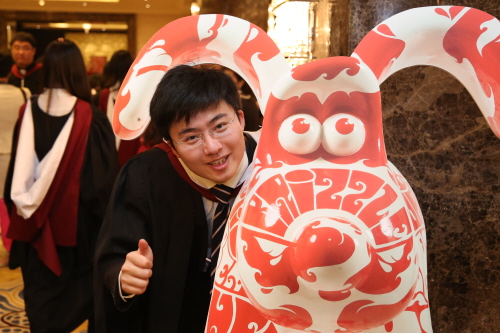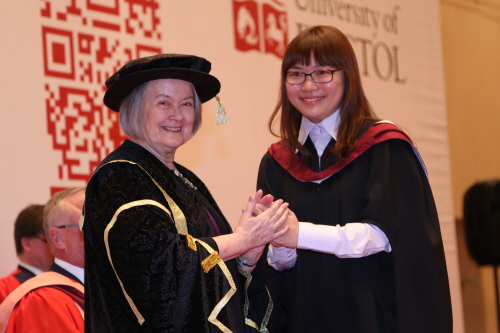 Press release issued: 19 April 2015
A flavour of Bristol was recreated in Beijing as almost 350 Chinese students who studied at the University of Bristol celebrated their graduation.
In front of a backdrop of the Clifton Suspension Bridge, new alumni of the University were congratulated on their academic achievements by its Chancellor, The Right Honourable the Baroness Hale of Richmond.
There was pride and excitement aplenty during the event, which saw the ceremonial centrepiece held for the second time in China to give the former students' friends and family the opportunity to share the memorable occasion.
Reminders of the city were present in the form of giant three metre tall photos of landmarks such as the Wills Memorial Building, the Victoria Rooms and the Harbourside, which provided backdrops for students to pose in front of.
There were even life-size cut outs of Gromit and Shaun the Sheep statues from their respective public art trails.
Stretching across the stage was a striking version of the Suspension Bridge, created in red pixels and a QR code to take people to a special website for the event.
Lady Hale said: "Graduation and events like these are the greatest pleasure of my role. It's been wonderful to celebrate with all our recent Chinese graduates here in Beijing and to share their pride and excitement. Many of them told me how much they loved their time in Bristol and hope to return, which is fantastic to hear."
Almost 1,000 people took part in the event, held at the China World Hotel in Beijing, during which an honorary degree was presented to Professor Chunli Bai in recognition of his pioneering contribution to the field of nanoscience in China.
He is President of the Chinese Academy of Sciences, President of the Third World Academy of Sciences, and has strong links with Bristol Nanoscience – one of the leading centres in the world for nanoscience research.
The University, which is one of the most popular in the UK, attracts hundreds of international students every year, including many from China.
Yuan Fang, who graduated with a Masters in Management in 2014, said: "I wasn't able to travel back to Bristol for my own graduation so it's been great to have this celebration today. The large photos bring back many memories and it's been fun to take photos with old friends and lecturers. I've really enjoyed the day."
A further two events were held in Shanghai and Beijing for hundreds of alumni who have studied at Bristol University.