View all news
Virtual reality exhibit transports viewers back to 1914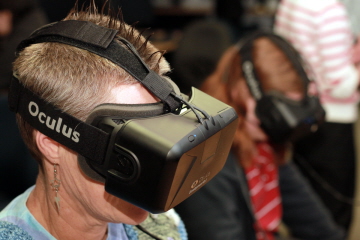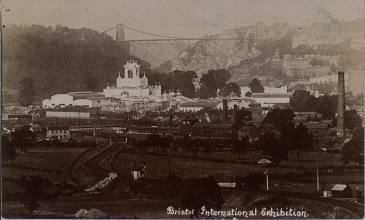 Press release issued: 10 October 2014
Stephen Gray, a PhD student from the University of Bristol, has built a virtual reality version of Bristol in 1914.
It's for a major new exhibition which opens at the M-Shed this weekend [11 October].
The Moved by Conflict exhibition marks the centenary of the First World War through the stories and experiences of the people of Bristol.
The visitor moves from the early 1900s to examine the city's position in the British Empire, through 1914–1918, before looking at the city today and how its people are affected by current conflicts.
Stephen's research has focused on recreating the area around Ashton Gate, which was the site of Bristol's 'White City' in 1914 -an international exhibition which occupied 32 acres and included massive temporary structures and pavilions made mostly from white plasterboard.
The virtual reality experience transports the viewer to the summer of that year when ferries were used to shuttle passengers to the gates of the immense White City.
Viewers finds themselves taking the ferry across the Avon as the history of the site unfolds - what started out as a huge funfair was taken over by the War Office and turned into a surreal army training ground. Hundreds of volunteers left the White City for the Western Front, never to return.
The three minute experience uses both visuals and audio to tell the story, allowing the viewer to be immersed in the experience without the distraction of a controller or a keyboard.
Stephen, who is part of the Department of Archaeology and Anthropology, explains how the project came about: "My research explores how 3D technologies can be used to document and share our cultural heritage. So I was delighted when Bristol City Museums invited me to contribute to Moved by Conflict.
"The intention has been to communicate the bizarre history of the White City using the otherworldly impact of virtual reality."
This is not Stephen's first foray into exhibitions. He worked in this area before starting his PhD, most recently creating a projected installation as part of a John Martin exhibition for the Tate Britain.
The Moved by Conflict exhibition opens on 11 October and ends on 1 March 2015. Tickets are £3.95 for adults and £2.95 for concessions. The virtual reality experience is available on the first Saturday of each month and is included in the ticket price.
Loius Bibbings, Senior Lecturer at the University of Bristol Law School, and Professor Robert Bickers, Department of History, are also taking part in the Moved by Conflict exhibition. They will speak about men who conscientiously objected to the war for various reasons at a special conference involving 150 secondary school pupils from the South West at MShed on Monday 13 October.