View all news
The University of Bristol announces the appointment of Professor Hugh Brady as its next Vice-Chancellor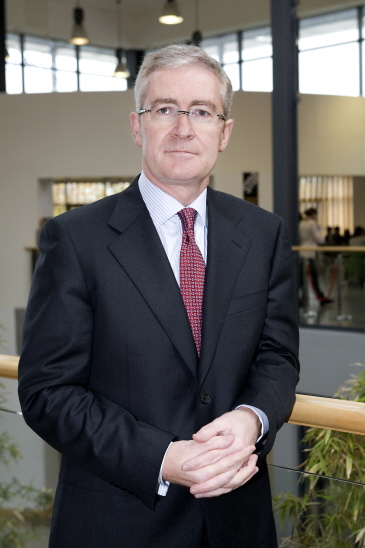 Press release issued: 31 October 2014
Today, following formal approval by the University's meeting of Council, the University of Bristol announced the appointment of its next Vice-Chancellor and President. Professor Hugh Brady will succeed Professor Sir Eric Thomas when he takes up the role in September 2015.
Professor Brady, who is Professor of Medicine and Healthcare Strategy and President Emeritus at University College Dublin (UCD), will become the University's 13th Vice-Chancellor.
Denis Burn, Chair of the University's Council, said: "I am delighted that Professor Brady will take up the position as our next Vice-Chancellor. This has been a rigorous and thorough appointment process which has understandably attracted a highly accomplished field of candidates from men and women world-wide.
"We have ensured that the appointment decision has been informed by the views of staff, students and alumni and I would like to acknowledge all those that have played a role throughout.
"Professor Sir Eric Thomas has provided outstanding leadership and this has resulted in Bristol being one of the most highly respected institutions in the world. I am confident that Professor Brady will build upon our enviable position and I look forward to working closely with him."
Professor Brady said: "The University of Bristol is a world-leading institution which is highly respected for its teaching and research. I am excited to have the opportunity to help to shape its future and build upon its many strengths.
"The quality of its staff, students and alumni is very apparent, as is the University's role both as a global institution as well as a driving force for the economic and cultural capital of Bristol and surrounding region."
Professor Brady was appointed President and Chief Officer of University College Dublin in 2004 and led the university through a strategic and physical transformation that enabled it to increase its market share of the most able students, grow its international student numbers, boost its research income and performance, expand its international partnerships, and increase its income from philanthropy and other non-Exchequer sources.
During his academic career, Professor Brady has held Fellowship and Faculty positions at globally prestigious institutions, including Harvard University and the University of Toronto. Prior to his appointment as President and Chief Officer, he was Head of the Department of Medicine at University College Dublin. He is an international authority on the pathogenesis of diabetic kidney disease.