View all news
Multi-million pound fund to boost UK university spin-outs and research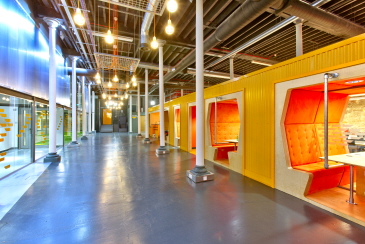 Press release issued: 26 November 2014
Research from universities across the South of England could be commercialised and turned into successful business faster than ever before, thanks to a multi-million pound project announced today [November 26] by Minster for Universities and Science, Greg Clark MP.
Funded by HEFCE and Innovate UK, the £3.2 million iCURE project aims to 'bridge the valley of death' identified by the House of Commons Science and Technology Select Committee.
The project will help address issues raised in the Government's response to the Committee's inquiry last year, including the importance of innovation by universities in managing intellectual property and of attention to the availability of 'proof of concept' funding.
iCURE will see HEFCE, Innovate UK and university enterprise partnership SETsquared work together on a pilot to tackle these issues and help accelerate research being successfully commercialised and 'spun out' new high-potential companies.
Under the programme, early-stage researchers at the five SETsquared universities (Bath, Bristol, Exeter, Southampton and Surrey) will be given tailored training, mentoring and funds to speed up the commercialisation of their ideas, technologies and products.
The project was inspired by Innovate UK's review of a similar programme operated by the US National Science Foundation, and is funded by a £2.8 million HEFCE cash injection and £400,000 from Innovate UK.
Universities, Science and Cites Minster Greg Clark MP said: "Collaboration is the key to turning the best research into new businesses. We are proud that SETsquared is already Europe's best incubator, and second in the world, which is why we are supporting this pilot scheme. It will provide skills, support and mentoring to help the UK's best researchers turn their ideas into commercial success. This strengthens the UK's positon as the best place for science and technology research, and drives forward our economic growth."
Innovate UK, which helps businesses bring new innovations to the market, is separately making £6 million available over the next two years to help university spin-out companies develop faster and be more attractive to private investors. The iCURE programme was announced today as SETsquared held its 11th annual investment showcase, Accelerating Growth, at the Shard.
Further information
About SETsquared
SETsquared is a partnership between the universities of Bath, Bristol, Exeter, Southampton and Surrey, which specialise in growing high tech start-ups through its incubation programme and other acceleration services. It provides mentoring, aces to investors and corporates and a wide range of industry experts through its network and trading programmes.
Its business incubation programme is ranked the best in Europe and second in the world and over the last decade it has developed over 1,000 high tech start-ups that have generated some £1bn in investment. It provides services from its innovation centres at the five universities but also supports companies virtually, giving every member access to the world leading business support.
About HEFCE
The Higher Education Funding Council for England (HEFCE) promotes and funds high-quality, cost-effective teaching and research to meet the diverse needs of students, the economy and society. Our responsibilities are to distribute funds, safe guard quality and assure the stewardship of public money. We work closely with universities, colleges and other partners to develop polices, achieve excellence and impact in education and research, and to provide opportunities for all those who have the ability to benefit from higher education. For the academic year 2014-15, HEFCE will allocate £3.88 billon to 130 universities and higher education colleges and 212 further education colleges.
About Innovate UK
Innovate UK is the new name for the Technology Strategy Board – we are the UK's innovation agency, accelerating economic growth. We know that taking a new idea to market is a challenge. We fund, support and connect innovative businesses through a unique mix of people and programmes to accelerate sustainable economic growth.