View all news
New Fellow of the Royal Society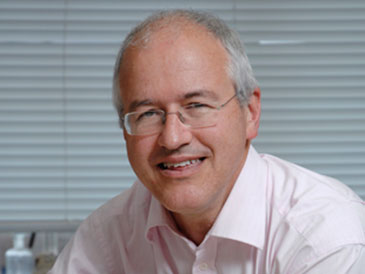 Press release issued: 1 May 2014
Michael Benton, Professor of Vertebrate Palaeontology in the School of Earth Sciences, has achieved the rare distinction of being elected Fellow of the world's most eminent and oldest scientific academy in continuous existence: the Royal Society.
He joins a Fellowship of some 1,400 outstanding individuals representing science, engineering and medicine: a global scientific network of the highest calibre.
Professor Benton has made fundamental contributions to understanding the history of life, particularly biodiversity fluctuations through time.
He has led in integrating data from living and fossil organisms to generate phylogenies – solutions to the question of how major groups originated and diversified through time. This approach has revolutionised our understanding of major questions, including the relative roles of intrinsic and extrinsic factors on the history of life, whether diversity reaches saturation, the significance of mass extinctions, and how major clades radiate.
His research interests include the diversification of life through time, the phylogeny of diapsids and dinosaurs and dating the tree of life. His key interests at the moment are exploring aspects of the quality of the fossil record and the effects of the end-Permian mass extinction, 250 million years ago, which wiped out as many as 90 per cent of all species. Understanding how life can bounce back from such a calamity is providing new evidence about how evolution works on the large scale.
Commenting on the honour, Head of the School of Earth Sciences, Professor Michael Walter said: "We in Earth Sciences are extremely happy that Mike Benton has been elected as a Fellow of the Royal Society. Mike is a pillar in his field, and this is a very fitting honour for his numerous outstanding scientific accomplishments."
The Fellowship of the Royal Society is made up of the most eminent scientists, engineers and technologists from the UK and the Commonwealth. Past Fellows and Foreign Members have included Isaac Newton, Charles Darwin and Albert Einstein.
Fellows of the Royal Society are elected for life and designate themselves through the use of the letters FRS after their names. This year 50 new Fellows and Foreign Members were elected.
The University of Bristol has 25 Fellows of the Royal Society among current staff, and 15 among its emeritus professors.
Full list of Fellows of the Royal Society at the University of Bristol