View all news
£918,000 renewed funding for UK greenhouse gas monitoring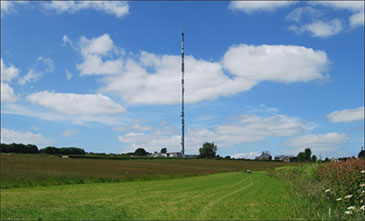 Press release issued: 7 May 2014
A network of integrated greenhouse gas measurements in the UK and Ireland – the first of its kind in Europe – has been awarded renewed funding of £918,000 for continued operation.
The UK DECC (Deriving Emissions linked to Climate Change) Network was launched in 2011 by researchers at the University of Bristol, led by Professor Simon O'Doherty in the Atmospheric Chemistry Research Group.
The first three years of operation have resulted in a wealth of data and knowledge about the UK's contribution to greenhouse gas emissions. Owing to the high-density of measurements that are being made, the network has allowed researchers to improve understanding about unknown or unreported sources of greenhouse gases in the UK. The UK's emissions are reported to the United Nations Framework Convention on Climate Change as part of the Kyoto Protocol.
The DECC network consists of four stations in the UK and Ireland (Ridge Hill, Herefordshire; Tacolneston, Norfolk; Angus, Scotland and Mace Head, Ireland), which make high-frequency measurements of all major greenhouse gases, including carbon dioxide, methane, nitrous oxide and a suite of halocarbons.
These measurements are used in conjunction with an atmospheric transport model developed at the Met Office to infer emissions and to better understand the processes that drive these emissions.
Postdoctoral scientists, Dr Anita Ganesan and Dr Aoife Grant have been working to maintain operation of the instruments for the purposes of long-term data collection and to analyse the data for emissions information.
Dr Grant said: "It's been challenging to set up and maintain these sites, some of which are in remote locations, but it's been rewarding to see this greenhouse gas record develop over the past few years."
The University of Bristol has been running a programme of atmospheric monitoring of trace gases at Mace Head in the Republic of Ireland since 1987. Measurements from the UK DECC Network allow researchers to infer emissions of these harmful greenhouse gases at higher resolution than has been previously been done over the UK.
Cabot Institute
The Cabot Institute carries out fundamental and responsive research on risks and uncertainties in a changing environment. It drives new research in the interconnected areas of climate change, natural hazards, water and food security, low carbon energy, and future cities. Its research fuses rigorous statistical and numerical modelling with a deep understanding of social, environmental and engineered systems – past, present and future. It seeks to engage wider society by listening to, exploring with, and challenging its stakeholders to develop a shared response to 21st Century challenges.