View all news
Assessing the acoustics of Stonehenge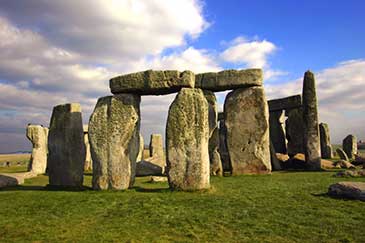 Press release issued: 10 March 2014
Why did the builders of Stonehenge choose to transport giant bluestones hundreds of kilometres from Wales to Salisbury Plain? Dr George Nash from Bristol's Department of Archaeology and Anthropology is involved in research which is taking a novel approach to solving the mystery.
The 'Landscape and Perception Project', led by Paul Devereux and Jon Wozencroft from the Royal College of Art, has been assessing the archaeoacoustic value of the bluestones, with Dr Nash and prehistorian Professor Timothy Darvill of Bournemouth University acting as advisors on the project.
The builders of Stonehenge transported thirty or more giant bluestones 260 km from the prehistoric stone quarry of Carn Menyn Ridge in Mynydd Preseli, South-west Wales to Salisbury Plain.
The Royal College of Art team tested over a thousand rocks at points all along the Carn Menyn Ridge and found that on average, between five and ten per cent of the rocks 'ring' when hit with a hammer-stone. In some localised areas, the figure rises significantly to between 15 and 20 per cent.
The researchers then assessed the bluestones that form one of the circles at Stonehenge. They found that, although many of the bluestones within the monument have been moved or set in concrete, at least three rang and had a similar resonance to those recorded at Carn Menyn Ridge.
In a BBC interview, Dr Nash said: "For many years archaeologists have been obsessed with Stonehenge being just merely a visible entity. Clearly, there are other factors afoot whereby the ringing stones would have created a unique soundscape.
"During its prehistoric past Stonehenge would have been a theatre of performance, where the sound as well as the lustre and colour of the bluestones would have formed an essential element in the ritual activity of this building."