View all news
OBE honour for domestic violence researcher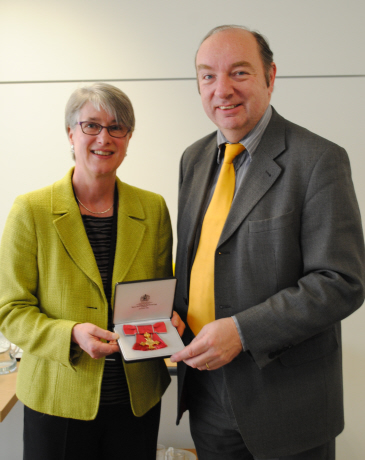 Press release issued: 13 March 2014
A researcher at the University of Bristol has collected an Order of the British Empire (OBE) in recognition of her outstanding research towards the prevention of domestic violence.
Professor Marianne Hester, Head of the Centre for Gender and Violence Research at the University's School for Policy Studies, was awarded the royal accolade to acknowledge her extensive work with professionals to improve the quality of care given by the criminal justice, health and social care sectors for women and children experiencing domestic violence and abuse.
She was presented with her OBE by Norman Baker, the Minister for Crime Prevention, at a special ceremony held at the Home Office.
Professor Hester, who is from Denmark, said: "There are not many foreign nationals awarded OBEs, and it was therefore a particular honour to receive the award for the impact of my research and in recognition of services to the prevention of domestic violence."
As one of the UK's leading researchers of gender-based violence, Professor Hester has led groundbreaking research on many aspects of violence, abuse and gender relations.
This includes comparative research on child contact and domestic violence in Denmark and the UK, comparing domestic violence in China and the UK, and research on gender and domestic violence perpetration.
Her work has directly influenced health, criminal justice and family policy and practice in the UK, Europe and other countries.