View all news
Bristol student celebrates inspirational women through Pacific row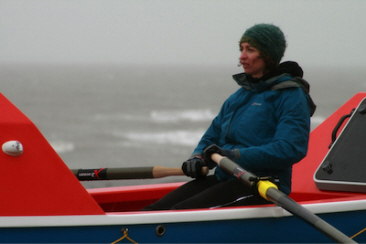 Press release issued: 6 March 2014
Elsa Hammond is using her epic three month row from California to Hawaii to celebrate the contributions of inspirational women across the world.
This week, Elsa launched '2,400 miles: 2,400 women' to coincide with International Women's Day [8 March]
The public are encouraged to nominate an inspirational woman in their life by dedicating a specific mile in their name.
Supporters will see their woman of choice's name printed on the custom-built boat, ensuring they become a personal and integral part of Elsa's mission.
The women will receive a message of support or memorial once their mile is reached via Elsa's twitter and Facebook pages. Elsa will use their stories as motivation as the race goes on.
The journey will be part of the inaugural Great Pacific Race and Elsa will be raising money for environmental charity, The Plastic Oceans Foundation, and gender equality charity, The GREAT Initiative.
The world-record breaking attempt will see Elsa row up to 16 hours a day in a bid to become the fastest and youngest woman in history to achieve the feat.
Using up to 8,000 calories a day, it will be an incredible test of Elsa's physical and mental strength, and she will need all her spirit and determination to cope with the three months of extreme isolation, challenging environment and gruelling conditions.
She is aiming to join a select list of women who have rowed an ocean alone, a group smaller than the number of people who have walked on the moon.
For more information on Elsa or to take part, please visit her website. Elsa will also be sharing her journey on Facebook, @ElsaAHammond and YouTube.