View all news
New drone-based system set to dramatically improve safety of dealing with nuclear hazards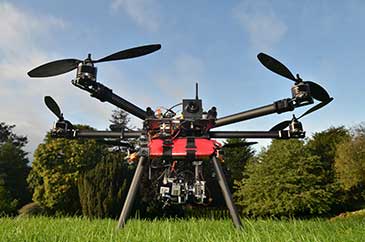 Press release issued: 18 March 2014
A new and much-needed remote system to safely and accurately assess dangerous nuclear accident sites has been awarded funding from the Royal Academy of Engineering to help it move out of the Bristol science lab where it was developed and turn it into reality.
Hazardous nuclear events have the potential to cause huge levels of widespread damage to individuals and the environment. Getting close enough to these incidents to accurately assess the problem can be extremely dangerous. Following the incident at the Fukushima power plant in Japan in 2011, for example, helicopter pilots assessing the site were exposed to significant amounts of radiation.
Dr James MacFarlane and his team at the University of Bristol have developed an innovative system to safely and remotely assess radiological hazards across the nuclear industry, providing real-time information on the source, intensity and location of radiation. Dr MacFarlane was today announced as the joint winner of this year's ERA Foundation Entrepreneurs Award and will receive a £15,000 development fund for the system, along with a £5,000 personal award and mentoring from renowned engineers Professor Richard Brook FREng and Professor Eric Yeatman FREng.
The Advanced Airborne Radiation Monitoring (AARM) system integrates an unmanned aerial vehicle (UAV) with a lightweight gamma spectrometer (donated by Kromek, GR1) and other positional sensors. It is light weight and low cost, and able to capture high resolution images.
The AARM system could significantly improve the safety and effectiveness of hazard response operations, including rapid response monitoring of nuclear events. The system also supports routine monitoring at nuclear sites and naturally occurring radioactive materials at mining operations and oil and gas facilities.
Field demonstrations of the prototype have already been performed at a uranium mining site in Banat, southwest Romania, and validated against traditional surveying methods, attracting strong support from all areas of the UK Nuclear industry.
The ERA Foundation Entrepreneurs Award was established to identify entrepreneurial electro-technology researchers in UK universities with great ideas, and support them to commercialise their research. The Royal Academy of Engineering delivers the award as part of its ongoing commitment to supporting innovation and entrepreneurship in the UK. The Academy is currently leading a national campaign, Engineering for Growth, in partnership with leading technology businesses, engineering bodies and the government, to support growth in the UK engineering sector.
In addition to Dr MacFarlane, the University of Strathclyde's Dr David Heath was also awarded as joint winner of the ERA Foundation Award for 2014. Dr Heath has developed a new anti-aging skin cream applicator that uses electrical energy to increase absorption at deeper skin levels, allowing results to be achieved quicker and more effectively, providing greater value to users.
Dr Mark Symes of the University of Glasgow receives this year's runner up prize of a £2,000 grant for his integrated platform to monetise intermittent renewable energy.
The winners will be the latest to be inducted into the Royal Academy of Engineering's Enterprise Hub, a new national resource for the UK's most promising technology-intensive SMEs and entrepreneurs that provides prestigious support and networking opportunities from the Academy's Fellowship and entrepreneurial network.
Professor Sir Richard Brook OBE FREng, Chairman of the ERA Foundation, said: "This year's winners have pushed the bar even higher in terms of the sheer quality and ingenuity of their projects. Both winners have already invested so much time and energy in their projects, and they now have a superb opportunity to take them to the next level."
Arnoud Jullens, Head of Enterprise at the Royal Academy of Engineering, said, "We've already seen outstanding progress from previous winners of this prestigious prize, and we have high hopes for this year's researchers and their innovative projects. With funding and support from the Enterprise Hub's network of experienced entrepreneurs, I'm confident we will see the commercial potential of these projects realised."
James Macfarlane said, "The AARM system has had a great reception within the nuclear industry, which reiterates to us that there is a real need for the capability it provides in the nuclear energy sector. Our technology is not only timely and novel, but will also be a massive benefit in the day-to-day processes of the nuclear industry. With the support of the Enterprise Hub and my two mentors, I look forward to the deployment of the AARM system in the UK in the very near future."