View all news
The science of bladder control takes top thesis prize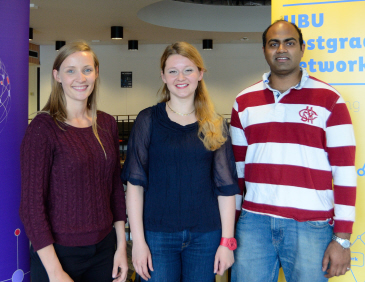 Press release issued: 9 June 2014
'To pee or not to pee', that was the subject of the winning presentation at the University of Bristol's inaugural competition to challenge postgraduate researchers to present their 80,000-word theses in just three minutes.
Dominika Bijos was named the winner in a close-fought affair as 10 finalists took to the stage in the Anson Rooms, in front of a packed audience, for the Three Minute Thesis (3MT) – a global academic competition designed to improve participants' presentation and communication skills and raise awareness of their research area.
Using just one slide, contestants are challenged to bring their research to life in an engaging way, using language understandable to a non-specialist audience, before the three-minute bell chimes.
Dominika Bijos, who's in the 3rd year of her PhD and currently writing up her thesis, won the judges' votes after successfully summarising her research into the muscle motions which cause an overactive bladder.
She's identified a protein which plays a fundamental role in modulating bladder movements, a breakthrough which could potentially be used to help develop new treatments in the future.
Dominika, who won an iPad for securing first place, said: "It's been a fantastic experience and it's done a great deal to boost my confidence and the profile of my research. If I can explain it to people who don't study or work in science and they think that it's relevant and important then that's awesome.
"This competition is breaking the stereotype of researchers being older guys in white lab coats. We're all young people, all carrying out research which is important to people's everyday lives."
Dominika, from the School of Clinical Sciences, will go on to represent the University of Bristol at the national semi-finals being hosted by the University of York on 14 July. Six finalists will go forward to the UK-wide final on the 9 September at the Vitae Researcher Development International Conference in Manchester.
Saran Shantikumar, from the School of Clinical Sciences, scooped second place with his presentation entitled 'Let's de-feet amputations', looking at how diabetes causes poor blood flow and leads to 6,000 feet being amputated each year. He's designed a drug which shows a 50 per cent improvement in blood flow in just three weeks, hopefully reducing the need for amputations in the future.
Third place went to Olivia Maynard, from the School of Experimental Psychology, for her presentation on how plain cigarette packaging helps to draw the attention of some adolescent smokers to the health warnings on the package.
The 3MT competition has become hugely successful since it was created by the University of Queensland, Australia, in 2007 and has extended to higher education institutions around the globe. A total of 35 UK institutions are taking part this year.
Bristol 3MT is supported by the Bristol Doctoral College and UBU Postgraduate Network.