View all news
Standing up for down-to-earth science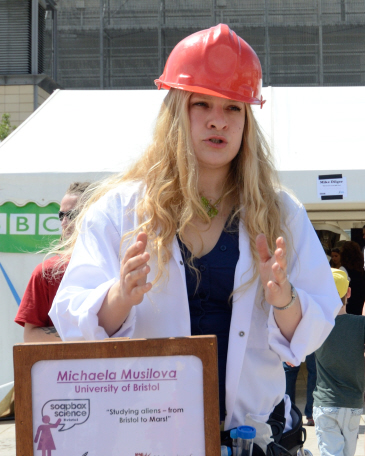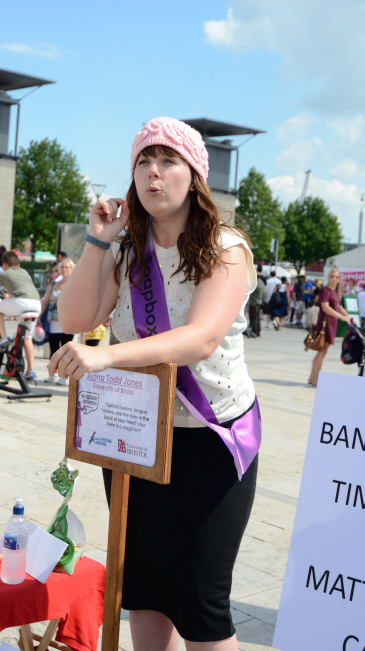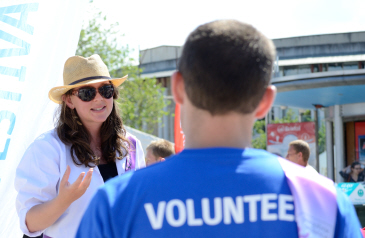 16 June 2014
Soapbox Science transformed Bristol's Millennium Square into a site of scientific debate when leading female scientists engaged passers-by in cutting edge research as part of the Festival of Nature.
The pioneering event aimed to challenge traditional science stereotypes and to take science out of institutions directly to the public.
Soapbox Science was founded in 2011 in London, by Dr Seirian Sumner, from the University of Bristol and Dr Nathalie Pettorelli, from the Zoological Society of London. This year the concept went nationwide, with events in Bristol, London, Swansea and Dublin.
Soapbox Science Bristol featured 12 female scientists from across the South West, who ditched their power points and lecture halls in favour of down to earth settings, so that everyone could access the latest in scientific discovery in an interactive, non-threatening environment.
There was strong competition to appear at the Bristol event, and the winners' discussion topics ranged from smartphones and sustainability, optical illusions, tongue twisters and the brain, the oldest, driest desert in the world, how we can transform waste into energy, and space exploration, including the study of aliens and of Mars.
The event followed the format of London's historic arena for public debate - Hyde Park's Speaker's Corner. Speakers stood on custom made Soapbox Science soapboxes, arranged in a semi-circle facing slightly inwards to create space for a crowd to gather. The public were invited to learn, question and interact with the researchers during one-hour sessions, which showcased four or five speakers per session.
Dr Seirian Sumner, whose research looks at the social evolution and behaviour of insects, said: "There's more to Soapbox than just a science outreach event. Soapbox champions the fabulous female scientists we have in the UK, providing accessible role models for the next generation of female scientists, and promoting the visibility of women in science to the general audience."
Soapbox Science promotes gender equality in science, technology, engineering and maths (STEM) by challenging accepted views of what scientists should look and sound like. Its long-term priorities are to change the experiences of women in science through campaigning for equality in academic institutions, government, and wider society.
Soapbox Science is supported by the Zoological Society London, the University of Bristol, and the University of Swansea. It is sponsored by L'Oreal.
More information can be found on the Soapbox Science website. You can follow Soapbox Science via the Twitter handle @soapboxscience.
Dr Seirian Sumner and Dr Nathalie Pettorelli featured on BBC Radio Wales Science Cafe. You can hear the show via iPlayer.