View all news
Students lay down the law in human rights teaching sessions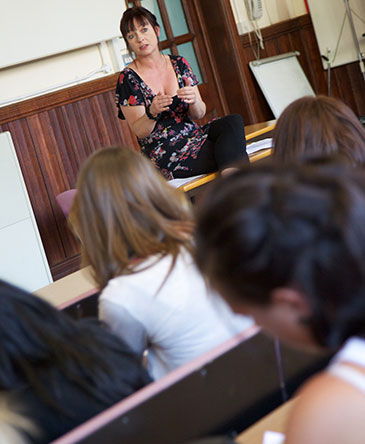 8 July 2014
Undergraduates studying Constitutional Rights as part of their Law degree have been visiting local inner-city schools, introducing Year 9 and Year 10 students to the concept of human rights. In all, the Law students conducted 33 teaching sessions on the Human Rights Act as part of a widening participation project for the University.
Dr Devyani Prabhat, Lecturer in Constitutional Rights at the School of Law, designed the sessions. 'Our students began by explaining the meaning of human rights and quickly realised the value of using a variety of teaching strategies to get their message across: role play, hypothetical scenarios and group discussions,' she said. 'True or false and open-ended questions were part of their repertoire, as were hand-outs and newspaper cuttings. Our students enjoyed the real-life experience of explaining the logic of law.'
A teacher at Merchants' Academy said: 'The session went very well – the Law students proved to be engaging and informative.' Another, from Chipping Sodbury School, praised the students' enthusiasm and commented on how accessible they made the topic for the low-ability groups, adding that the school would be very happy to host similar sessions in the future.
Katherine Walton, one of the University of Bristol students who delivered the sessions, described the teaching as 'one of the most rewarding experiences for me at university this year', while admitting that having not taught before, it was a daunting experience. 'The children quickly became engaged in the lesson, however, and there were some fantastic debates about the death penalty, terrorism and stop and search,' she said. Overall, the 31 University of Bristol students who taught felt that the project was 'an invaluable real-life experience of law'.
Head of School, Celia Wells, praised the initiative, saying: 'We are very proud of the students who delivered these sessions – and pleased to support yet another high-quality widening participation programme.'
As well as the human rights classes, the School runs a Pathways to Law programme for years 12 and 13, the Meriton Law Enrichment Programme involving working with local teenage mothers, and the new Employment Outreach Project, which began last month. Law staff and students also contribute to a number of other widening participation events involving schools and colleges throughout the year, including summer schools.
For further information about this work, contact Lois Bibbings, Senior Lecturer in Law (Lois.S.Bibbings@Bristol.ac.uk), or Alex O'Driscoll in the Widening Participation and Undergraduate Recruitment Office (alex.odriscoll@bristol.ac.uk).