View all news
£245,000 for research into England's first Deaf church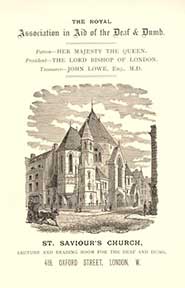 Press release issued: 9 January 2014
Dr William John Lyons, senior lecturer in the University of Bristol's Department of Religion and Theology, has secured a three year Leverhulme Trust project grant worth £244,911 for his project 'Scripture, dissent and Deaf space: St Saviour's, Oxford Street'.
St Saviour's was England's first Deaf Church, built in 1870 after a committee of seven Deaf men—backed by one of London's largest Deaf welfare organisations—presented a request to the Church of England for 'a church of their own' and offered funds to promote the build.
Built on land granted by the Grosvenor estate, publically acknowledged by the royal family, and generating the first officially ordained minister designated to work with Deaf people, St Saviour's represented both powerful patronage and a shift by the Church of England towards the inclusion of provision to Deaf people within its official remit.
The church was designed and constructed in liaison with the Deaf community, and incorporated dissenting architectural traditions that better served their need for visually-mediated communication. It also represented unprecedented recognition for the value and legitimacy of Deaf people's language, traditions, and knowledge. Until its closure in 1922, the building stood as "a great symbol for Deaf people".
Dr Lyons said: "The church provided an ever evolving space where inherited scriptural understandings of deafness and disability, mediated through teaching, tradition, practices and informal encounters were played out, and where understandings of Deaf people's place within the church, and how they might define both Deaf and church, could be explored and—potentially at least—critiqued.
"With the right to worship effectively standing for other rights—to education, to work, to citizenship and membership of society—St Saviour's stood for nearly fifty years as a symbolic hub for the recognition of the London Deaf community. It is this historic crux point in British Deaf history that will be the subject of our project."
The project will draw on the expertise of Dr Mike Gulliver, who is an historian of the Deaf community, and will also employ a PhD student.
The Leverhulme Trust was established by the will of William Hesketh Lever, the founder of Lever Brothers. Since 1925 the Trust has provided grants and scholarships research and education. Today, it is one of the largest all-subject providers of research funding in the UK, distributing over £60m a year.