View all news
Primary care telephone triage does not save money or reduce practice workload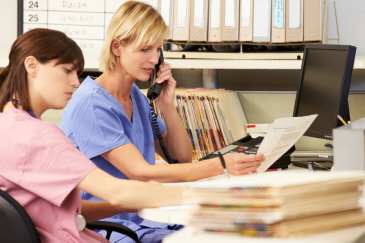 Press release issued: 4 August 2014
Demand for general practice appointments is rising rapidly, and in an attempt to deal with this, many practices have introduced systems of telephone triage. Patients are phoned by a doctor or nurse who either manages the problem on the phone, or agrees with the patient whether and how urgently they need to be seen.
A new large study, published in The Lancet today [4 August] and funded by the UK National Institute for Health Research (NIHR), has investigated the potential value of telephone triage for patients and for the NHS.
It concluded that patients who receive a telephone call-back from a doctor or a nurse following their request for a same-day consultation with a GP are more likely to require further support or advice when compared to patients who see a doctor in person. The research concluded that 'telephone triage' systems did not reduce overall practice workload.
These findings, from a team led by the University of Exeter Medical School, are important as telephone triage is becoming increasingly popular in general practice as a response to managing patient care.
The research was carried out in collaboration with the Centre for Academic Primary Care at the University of Bristol, the University of Oxford, the University of East Anglia and the University of Warwick. It was funded by the National Institute for Health Research Health Technology Assessment Programme.
Overall, the ESTEEM study – one of the first robust investigations in this field – concluded that telephone triage by a doctor or a nurse only results in a redistribution of practice workload, not a reduction. It also discovered that telephone triage is no more expensive or cheaper than care provided via traditional face-to-face appointments.
The ESTEEM trial involved more than 20,000 patients across 42 doctor surgeries in England. Practices were randomly assigned to continue delivering care in their usual way, or to change to a system using a doctor or nurse to call the patient back to offer help or advice following the patient's request for a consultation with a GP 'that same day' in the practice.
The research lasted for around two to three months in each practice. The researchers examined patient's consulting patterns in the 28 days following their initial same-day consultation request.
Practices offering triage by a GP saw an increase of 33 per cent in the total number of patient contacts amongst patients who had requested a same-day appointment compared to patients seen under usual care. For practices offering nurse triage the increase in the total number of contacts was 48 per cent.
The researchers identified that there was a redistribution of GP workload associated with introducing triage. In practices providing GP triage, GPs had 39 per cent fewer face-to-face consultations, whilst in practices providing nurse triage, GPs had 16 per cent fewer face-to-face consultations. Thus introducing GP triage was associated with a redistribution of GP workload from face-to face consultations to telephone consultations, and introducing nurse triage was associated with a redistribution of workload from doctors to nurses.
Around half of the patients seen in 'usual care' had no further contact with the health care system in the 28 days following their initial consultation. However, 75 per cent of patients seen in practices operating a GP telephone triage systems did make further contact, and where nurse telephone triage was in operation, 88 per cent of patients made further contact.
Overall, patients reported a good experience of care provided by the study practices, although patients from practices providing nurse triage were slightly less satisfied than those from the other practices.
Prof Chris Salisbury, Professor of Primary Care at the University of Bristol, said: "Patients find it difficult to get an appointment with their GP, and many general practices are struggling to meet the demand to be seen on the same day.
"Providing telephone triage has been promoted as a solution, on the assumption this would be more convenient for patients and save time for doctors. But our study showed that telephone triage didn't save practices time, nor were patients more satisfied.
"Practices need to think carefully before introducing major changes to their appointment systems. This study highlights the importance of evaluating proposed changes to general practice before they are introduced, as meeting the increasing demand for appointments is a complex problem which may not have a simple solution."
Further information
Paper
'The effectiveness and cost-consequences of telephone triage for managing same-day consultation requests in general practice: a cluster randomised controlled trial comparing GP-led and nurse-led management systems with usual care (The ESTEEM trial)' by JL Campbell, E Fletcher, N Britten, C Green, TA Holt, V Lattimer, DA Richards, SH Richards, C Salisbury, R Calitri, V Bowyer, K Chaplin, R Kandiyali, J Murdoch, J Roscoe, A Varley, FC Warren and RS Taylor in The Lancet.
Background information
Demand for UK primary care is rising, with an estimated increase in workload of around 62 per cent between 1995 and 2008.
GPs in an average UK practice of approximately 6,483 patients (3.8 doctors) manage around 65 patients each day. Of these 65 patients, around 20 are requesting a same-day appointment, representing around 30 per cent of GP workload. There are around 1 million patient consultations conducted every working day by NHS GPs and their teams.
Around 12 per cent of GP consultations are conducted on the telephone, a quadrupling since 1995.
This is the first large-scale study in the world to identify the potential value and implications of introducing GP-led or nurse-led triage of patients requesting same-day consultations.
The study was supported by the NIHR South West Primary Care Research Network and the NIHR Peninsula Collaboration for Leadership in Applied Health Research and Care.
About the Centre for Academic Primary Care (CAPC)
The CAPC at the University of Bristol is one of the leading centres in the UK which form the NIHR School for Primary Care Research. Within the University of Bristol, CAPC is an integral part of the School of Social and Community Medicine, which is an internationally recognised centre of excellence for research and teaching in population health sciences.
About the National Institute for Health Research Technology Assessment
1. The National Institute for Health Research Health Technology Assessment (NIHR HTA) Programme funds research about the effectiveness, costs, and broader impact of health technologies for those who use, manage and provide care in the NHS. It is the largest NIHR programme and publishes the results of its research in the Health Technology Assessment journal, with over 600 issues published to date. The journal's 2011 Impact Factor (4.255) ranked it in the top 10% of medical and health-related journals. All issues are available for download, free of charge, from the website. The HTA Programme is funded by the NIHR, with contributions from the CSO in Scotland, NISCHR in Wales, and the HSC R&D Division, Public Health Agency in Northern Ireland. www.nets.nihr.ac.uk/programmes/hta
2. The National Institute for Health Research (NIHR) is funded by the Department of Health to improve the health and wealth of the nation through research. Since its establishment in April 2006, the NIHR has transformed research in the NHS. It has increased the volume of applied health research for the benefit of patients and the public, driven faster translation of basic science discoveries into tangible benefits for patients and the economy, and developed and supported the people who conduct and contribute to applied health research. The NIHR plays a key role in the Government's strategy for economic growth, attracting investment by the life-sciences industries through its world-class infrastructure for health research. Together, the NIHR people, programmes, centres of excellence and systems represent the most integrated health research system in the world. For further information, visit the NIHR website (www.nihr.ac.uk).
This article presents independent research funded by the National Institute for Health Research (NIHR). The views expressed are those of the author(s) and not necessarily those of the NHS, the NIHR or the Department of Health.