View all news
Stitching the Iliad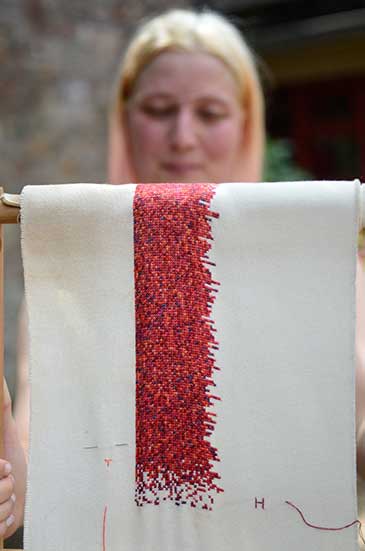 Press release issued: 28 August 2014
An ambitious project to create a visual 'translation' in embroidery of all 24 books of Homer's celebrated poem, the Iliad, is being undertaken by University of Bristol PhD student, Silvie Kilgallon.
In this 'Stitched Iliad', each letter in the text is represented by an individual stitch, with different letters denoted by different shades of red in the first book. With each new book, one letter-colour will be substituted for a shade of blue instead, with the final book being entirely blue.
The initial red scheme was chosen for several reasons. The Iliad is a book of war, anger, and bloodshed, and those are all concepts that a contemporary audience associates with a red colour scheme. Interestingly, Homeric Greek did not have many names for colours – hence the famous description of the 'wine dark sea' that appears several times throughout Homer's writing.
Research has shown that, by and large, all cultures follow a very similar order in developing names for colours: black, white and red come first, and blue is always one of the last colours to be named. Thus, the project begins in red, a primal colour, and transitions through to blue, a colour indicative of a more technologically developed society. The colour change throughout the translations can therefore be seen as representative of the transmission of the text from the mythic 'Homer' to the modern 'readers', or 'viewers' of the text.
Silvie said: "I started the project in response to a curator showing me a newly built, empty gallery space and asking me what I would put in it. My mind immediately sprang to the Iliad. I'd been researching translation, transmission and reception of text issues, so my immediate question to myself was 'Can I produce a translation of the text that allows an audience of non-classicists to appreciate it without understanding the text itself?' The colour translation was my solution."
The project aims to have both a performative and informative aspect. Silvie works on the piece in public places and documents her progress on her blog in order to prompt conversations about the Iliad and its reception with her audience.