View all news
Thucydides and the idea of history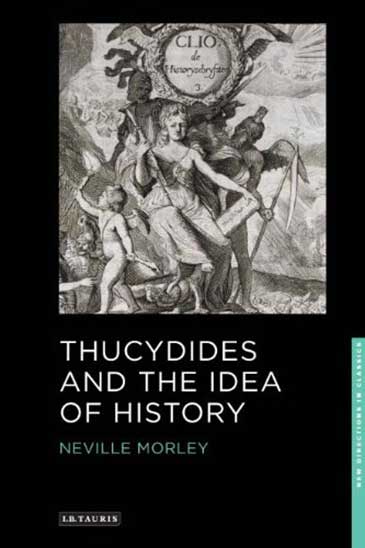 Press release issued: 29 April 2014
As part of his AHRC-funded project 'Thucydides: reception, reinterpretation and influence', University of Bristol ancient historian Professor Neville Morley explores the reception of Thucydides in modern western historiography in his latest book Thucydides and the Idea of History.
Since the eighteenth century, the ancient Greek writer Thucydides (c 460 - c 395 BCE) has been viewed not only as the most important classical historian but as a model for historiography in general, a modern scientific historian before modernity.
He was acclaimed not only as a vital source for reconstructing antiquity but as a purveyor of timeless political wisdom and methodological precepts. His name is almost inescapable in nineteenth-century discussions of history's nature and purpose, as well as in much contemporary political theory. And his spirit, or the image of him constructed by German and British historians, remains a significant presence in more recent debates about historical method.
It is remarkable then that the trajectory of Thucydides' modern reception has never been properly studied. In this book, Professor Morley sets right that neglect.
Thucydides and the Idea of History examines different aspects of the reception of Thucydides within modern western historiography, casting fresh light on ideas about history and the historian in the contemporary world. Nuanced readings illuminate changing notions of the nature and purpose of history and of the historian's proper task.
Professor Morley said: 'Thucydides is a brilliant and endlessly fascinating writer. Countless historians – and political theorists – have felt a sense of kinship and collegiality with him, despite the many differences between his work and the way we do things today. My aim in this book is to understand his influence, and also use his work to question much of what we take for granted as the 'proper' way to write history."
Thucydides and the Idea of History by Neville Morley is published by I. B. Tauris & Co Ltd; £15.99
About the author
Professor Neville Morley is Professor of Ancient History at the University of Bristol. His main research interests are in the economic and social history of classical antiquity, in the reception of antiquity in eighteenth- and nineteenth-century economic and social thought and in theoretical and philosophical approaches to historiography.
He was director of the four year AHRC funded research project 'Thucydides: reception, reinterpretation and influence' (2009-13) which examined how knowledge and understanding of Thucydides' work has developed within different national traditions since the Renaissance, and how the interpretation of Thucydides and his work has changed over time. He is currently developing a follow-on project, Lessons of War: reading Thucydides, 1914-45.