View all news
University of Bristol awarded Global Innovation Initiative grant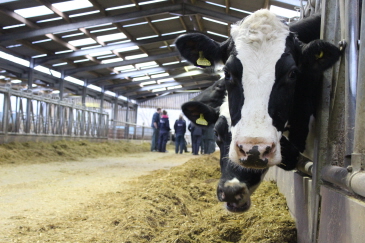 Press release issued: 30 April 2014
The University of Bristol has been awarded a £150,000 grant as part of a multilateral partnership with academic institutions in the US, China and India.
New multilateral university partnerships (23) have been created by the Global Innovation Initiative, a new programme funded by the UK and US governments to foster research collaboration with higher education institutes in Brazil, China, India and Indonesia.
Along with the University of Wisconsin Madison (US), Zhejiang University (China) and Kerala Veterinary and Animal Science University (India), Bristol will be undertaking research on Global Farm Platforms for Sustainable Ruminant Livestock Production.
The project will be led by Professor Mark Eisler and Dr Michael Lee from the School of Veterinary Sciences at the University of Bristol, supported by the University's Cabot Institute. This is a direct result of of consortium building activities in a World Universities Network project aimed at developing more sustainable livestock systems across the globe, which recently published a comments page in Nature on steps towards sustainable livestock production. That project involved partners from the UK, USA, Uruguay, Australia, China, Canada and India who will also link in with the current GII project.
The University of Bristol's Vice Chancellor Professor Sir Eric Thomas was instrumental in setting up the initiatives, with grants to be used to fund new research activities, faculty and researcher exchange, joint publications and symposia, and other multilateral efforts. In addition, the partner universities will support these projects with their own resources, such as laboratories, staff and faculty salaries and private sector contributions. Total funding for these partnership grants is approximately £3 million, with the total project awarded to Bristol in excess of £250,000 (With in-kind contributions from partners).
Each of the winning proposals addresses topics of global significance in the fields of science, technology, engineering and mathematics (STEM), including energy, climate change, agriculture, global health and wellbeing, and urbanisation.
The goals of this programme are to raise the bar for international collaboration, while developing a new generation of globally-minded individuals, enhancing global research, strengthening higher education institutional cooperation, and promoting the benefits of multilateral partnerships.
Two grant competitions were offered, running in parallel, with an institution from either the US or the UK taking the lead on the partnership. Each of the collaborations was required to include a partner from Brazil, China, India or Indonesia in recognition of the growing contribution of these nations to the global knowledge economy and solving issues of global importance.
Further information
About the Global Innovation Initiative
The Global Innovation Initiative was announced by William Hague, Foreign Secretary and John Kerry, US Secretary of State and formally launched in October 2013 by Rt Hon. David Willetts MP, UK Ministers for Universities and Science.
WUN: This international network of researchers received research development funding from the Worldwide Universities Network (WUN) for the related projects "Ensuring Sustainable and Responsible Production of Healthy Food from Healthy Animals" (2012) and "Global farm platforms for optimisation of grazing livestock productions systems" (2013). The WUN comprises 17 research-intensive institutions spanning 5 continents working in collaboration to accelerate the creation of knowledge to address issues of global concern.
Please visit www.bristol.ac.uk/wun to find out more about the WUN at Bristol.
The Cabot Institute carries out fundamental and responsive research on risks and uncertainties in a changing environment. It drives new research in the interconnected areas of climate change, natural hazards, water and food security, low carbon energy, and future cities. Its research fuses rigorous statistical and numerical modelling with a deep understanding of social, environmental and engineered systems – past, present and future. It seeks to engage wider society by listening to, exploring with, and challenging its stakeholders to develop a shared response to 21st Century challenges.
Find out more about our work at www.bristol.ac.uk/cabot