View all news
Jurassic jaws: how ancient crocodiles flourished during the age of the dinosaurs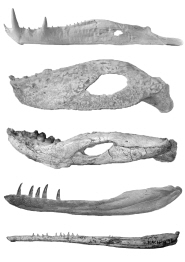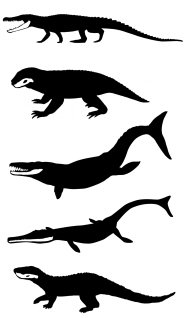 Press release issued: 11 September 2013
New research has revealed the hidden past of crocodiles, showing for the first time how these fierce reptiles evolved and survived in a dinosaur dominated world.
While most modern crocodiles live in freshwater habitats and feed on mammals and fish, their ancient relatives were extremely diverse – with some built for running around like dogs on land and others adapting to life in the open ocean, imitating the feeding behaviour of today's killer whales.
Research published today [11 September] in the journal Proceedings of the Royal Society B shows, for the first time, how the jaws of ancient crocodiles evolved to enable these animals to survive in vastly different environments, all whilst living alongside the dinosaurs 235 to 65 million years ago.
The study was conducted by Tom Stubbs and Dr Emily Rayfield from the University of Bristol, together with Dr Stephanie Pierce from The Royal Veterinary College and Dr Phil Anderson from Duke University.
Tom Stubbs, who led the research at the University of Bristol, said: "The ancestors of today's crocodiles have a fascinating history that is relatively unknown compared to their dinosaur counterparts. They were very different creatures to the ones we are familiar with today, much more diverse and, as this research shows, their ability to adapt was quite remarkable.
"Their evolution and anatomical variation during the Mesozoic Era was exceptional. They evolved lifestyles and feeding ecologies unlike anything seen today."
The research team examined variation in the morphology (shape) and biomechanics (function) of the lower jaws in over 100 ancient crocodiles, using a unique combination of numerical methods.
Dr Stephanie Pierce, from The Royal Veterinary College, said: "We were curious how extinction events and adaptations to extreme environments during the Mesozoic - a period covering over 170 million years - impacted the feeding systems of ancient crocodiles and to do this we focused our efforts on the main food processing bone, the lower jaw."
By analysing variation in the lower jaw, the researchers provide novel insights into how the feeding systems of ancient crocodiles evolved as the group recovered from the devastating end-Triassic extinction event and subsequently responded to the distribution of ecological resources, such as habitat and foodstuff.
For the first time, the research has shown that, following the end-Triassic extinction, ancient crocodiles invaded the Jurassic seas and evolved jaws built primarily for hydrodynamic efficiency to capture agile prey, such as fish. However, only a small range of elongate lower jaw shapes were suitable in Jurassic marine environments.
The study has also revealed that variation peaked again in the Cretaceous, where ancient crocodiles evolved a great variety of lower jaw shapes, as they adapted to a diverse range of feeding ecologies and terrestrial environments, alongside the dinosaurs.
Surprisingly, the lower jaws of Cretaceous crocodiles did not have a great amount of biomechanical variation and, instead, the fossil record points towards novel adaptations in other areas of their anatomy, such as armadillo-like body armour.
Dr Pierce added: "Our results show that the ability to exploit a variety of different food resources and habitats, by evolving many different jaw shapes, was crucial to recovering from the end-Triassic extinction and most likely contributed to the success of Mesozoic crocodiles living in the shadow of the dinosaurs."
This exceptional variation has never before been explored numerically, with no studies ever having incorporated such a wide range of crocodiles over such a long time period.
Dr Philip Anderson, from Duke University, said: "The use of biomechanical data allows us to identify major functional and ecological trends across fossil vertebrate groups at a macroevolutionary scale."
This research was partially funded by the Natural Environment Research Council (NERC) and the Biotechnology and Biological Sciences Research Council (BBSRC).
Further information
About The Royal Veterinary College
The Royal Veterinary College is the UK's first and largest veterinary school and a constituent College of the University of London. In the recent Research Assessment Exercise the RVC ranked as England's best school in the Agriculture, Veterinary and Food Science unit of assessment, for institutions whose research is exclusively veterinary related, with 55% of its submitted academics viewed as producing 'world class' and 'internationally excellent' research. The College provides support for veterinary and related professions through its three referral hospitals, diagnostic services and continuing professional development courses.
About the Natural Environment Research Council (NERC)
NERC funds world-class science, in universities and its own research centres, that increases knowledge and understanding of the natural world. It is tackling major environmental issues such as climate change, biodiversity and natural hazards. NERC receives around £400m a year from the government's science budget, which is used to provide independent research and training in the environmental sciences.
About the Biotechnology and Biological Sciences Research Council (BBSRC)
BBSRC invests in world-class bioscience research and training on behalf of the UK public. Its aim is to further scientific knowledge, to promote economic growth, wealth and job creation and to improve quality of life in the UK and beyond.
Funded by Government, and with an annual budget of around £467m (2012-2013), it supports research and training in universities and strategically funded institutes. BBSRC research and the people it funds are helping society to meet major challenges, including food security, green energy and healthier, longer lives. Our investments underpin important UK economic sectors, such as farming, food, industrial biotechnology and pharmaceuticals.