View all news
World-leading penguin experts come to Bristol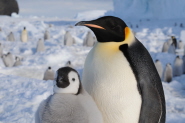 Press release issued: 22 August 2013
Penguin lovers will be treated to a unique insight into the charismatic birds' lives as world-leading experts come to Bristol for the 8th International Penguin Conference. It's the first time the conference has been held in Europe, with 200 delegates from 30 countries sharing their latest research and knowledge between 2 and 6 September.
It's the first time the conference has been held in Europe, with 200 delegates from 30 countries sharing their latest research and knowledge between 2 and 6 September. Archbishop Desmond Tutu has even recorded a welcome message to get the conference underway.
Members of the public are invited to get involved thanks to two unique events organised by the conference hosts - the University of Bristol and Bristol Zoo Gardens.
Bristol University graduate Elizabeth White, one of the directors of the popular Frozen Planet series, will be part of a free panel discussion entitled 'Penguins on Film' being held in the Wills Memorial Building on Wednesday, 4 September.
Footage from the BBC Natural History Unit, captured by a crew who spent four months with a penguin colony in the Antarctica, will show how Adelie penguins steal stones from its neighbours' nests to elevate and protect their eggs from run-off when the Antarctic ice melts.
Captivating slow motion footage will illustrate that penguins can 'fly', showing how Emperor penguins – the largest of all penguins, reaching up to 120cm tall – manage to get airborne by swimming at speed towards the surface of the water and landing back on the ice.
There will also be an opportunity to learn more about the African penguin at Bristol Zoo Gardens on Saturday, 7 September, with activities for all the family and the chance to meet scientists and conservationists who work with African penguins in South Africa and Namibia.
With five penguin species listed as endangered and a further six as vulnerable, work to ensure the survival of penguins in the wild has never been more important.
Over 60 presentations at the International Penguin Conference (IPC) will help to share new research, new conservation techniques and improved husbandry methods to try and prevent these species from becoming extinct.
Professor Peter Barham, Professor of Physics at Bristol University who has helped devise an automatic penguin recognition system which will reduce the need for potentially harmful banding of birds, will chair the conference.
He said: "It's a great honour to be hosting the conference in Bristol. It will be the largest gathering of its kind to date and between them the delegates work with penguins on all seven continents.
"Penguins are such fascinating creatures and they appear in many films and adverts, but the true picture is perhaps not as rosy as people think. There's so much work going on to help protect them and all the delegates are very keen to share their passion for penguins. Hopefully the conference and public events will encourage as many people as possible to understand these precious birds."
Neil Maddison, Head of Conservation Programmes at Bristol Zoo Gardens said: "We are thrilled to be co-hosting such an exciting conference, and Bristol Zoo is proud to be involved in a conference that is so important to the development of the conservation of penguins.
"The Zoo is also hosting a penguin day to help educate its guests about the important work that goes on to preserve the species, as well as providing guests with a great day out!"
Please visit the Zoo's website to find out more information about the penguin day, which is free to guests with usual Zoo admission.
Further information
Twitter
If you're following the 8th International Penguin Conference on Twitter, the hashtag for the event is #IPC8