View all news
Fossil fishes come to life in Ilminster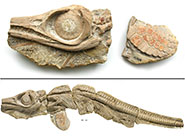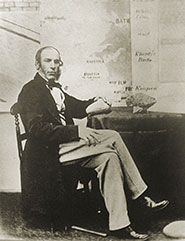 Press release issued: 21 August 2013
A collection of important fossil specimens are coming back to their home town in Somerset for an outreach open day, thanks to a partnership between Bath Royal Literary and Scientific Institution (BRLSI) and the University of Bristol.
The project has been led by James Fleming, a fourth-year undergraduate in the School of Earth Sciences at the University of Bristol.
The JESBI (Jurassic Ecosystem of Strawberry Bank Ilminster) project is opening a one day exhibit on Friday 23 August from 10.30am to 5pm in the Minster Rooms, Ilminster to showcase the beautiful fossils found in the area. Members of the project will also be giving talks throughout the day at 11am, 1pm and 3pm.
The reptile, fish, cephalopod and insect fossils were found by Charles Moore, an Ilminster born geologist, in the 1840s. Moore, a member of the BRLSI, exhibited his collection in the institution during his own lifetime under the condition that entrance was free and open to all members of the public. On Moore's death in 1881, the specimens were purchased by the BRLSI and have been part of their museum collection ever since: this is the first time since leaving Moore's residence in Ilminster that the fossils have returned to the town.
Over the last three years, the JESBI project has curated some of Moore's specimens thought lost to science, prepared key fossils for exhibition and research, improved their storage conditions and published new research in conjunction with the University.
Matt Williams, curator of the Bath collections said: "We have had wonderful funding from the Esmée Fairbairn Foundation over three years to develop our knowledge of this important collection, and the aim of the open day is to tell everyone about the work that has been going on behind the scenes. "
The Strawberry Bank fossils are unusually three dimensional or uncompressed and have spectacular soft tissue preservation, not only making them remarkably charismatic, but also tremendously important to palaeontological research. This is due to the ancient conditions of Strawberry Bank. In this shallow coastal area, unusual sea floor chemistry caused fossilisation to begin very rapidly after the animals died, even before burial; this protected them from scavengers, decay, and crushing from the eventual build-up of overlying sediment.
James Fleming commented: "I love palaeontology and understanding the life of the past. Here's a chance for people in south Somerset to find out what their area was like 200 million years ago."
The JESBI project are hoping to follow up this open day with talks for local societies in the future in order to keep them in touch with the research undertaken by the group.