View all news
Bristol research seen by tens of thousands at Asia's biggest science fair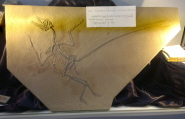 Press release issued: 9 August 2013
World-leading research being carried out in Bristol to identify the colour of prehistoric animals is being showcased at the largest science and technology fair in Asia, attracting some 1.2 million visitors each year.
Seven researchers and PhD students from the University of Bristol are showcasing their cutting-edge research into determining colour from ancient fossils at the National Science and Technology Fair 2013, taking place in Bangkok until 21 August.
British Council Thailand was asked to arrange a stand to showcase UK science at the annual event, which is organised by the Ministry of Science and Technology in Thailand.
HRH Princess Maha Chakin Sirindhorn, third in line to the throne in Thailand, presides over the opening ceremony every year. The exhibition attracts 1.2 million visitors, including school children, teachers, university students and even Thailand's Minister for Science Peerapan Palusuk.
The Bristol University exhibit, entitled 'Prehistoric colours in fossil insects and feathers', features results of interactive fossilisation experiments and a high-tech scanning electron microscopes, a fossilisation video game and lots of genuine fossils, plus a stunning cast of the four winged dinosaur, microraptor gui.
Following the success of the Royal Society Summer Science Exhibition last month, it was selected by the British Council not just as an example of high-impact research being carried out in the UK but also to highlight the importance and value of international collaboration because it involved a team of palaeontologists from Bristol, Ireland, China and the USA.
Dr Stuart Kearns, Senior Lecturer in the School of Earth Sciences, said: "It was a great honour for our exhibit to be selected by the British Council for such a big event. Every morning, tens of thousands of schoolchildren appear in brightly coloured buses and you can really sense their enthusiasm. It's a great opportunity to promote the importance of interactive science at school but also to showcase the truly international and ground-breaking research taking place in the UK."
In the past, experts have guessed what colour ancient animals were as colours are rarely preserved in fossils. But recent discoveries of colour-producing structures in fossil insects and feathers are helping scientists solve this mystery and learn about the evolution of colour and its role in communication.
Using modern insects and feathers, scientists have conducted experiments to measure the effects of pressure, temperature and chemicals on colours to see if and how they change over time.
They then examine fossils using powerful electron microscopes and identify which fossils have accurately preserved their colours. This will help scientists identify important changes in the evolution of colour and how it was used by animals in the past.
Further information
About the British Council
The British Council creates international opportunities for the people of the UK and other countries and builds trust between them worldwide. It is a Royal Charter charity, established as the UK's international organisation for educational opportunities and cultural relations. Its 7,000 staff in over 100 countries work with thousands of professionals and policy makers and millions of young people every year through English, arts, education and society programmes.