View all news
Launch of world-leading power electronics research centre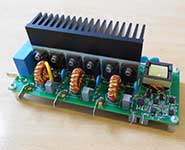 Press release issued: 1 July 2013
A Centre for Power Electronics that will focus on delivering the underpinning science and engineering behind many low carbon technologies from electric vehicles to renewable energy generation and distribution has been launched thanks to funding of £18 million by the Engineering and Physical Sciences Research Council (EPSRC).
The Virtual Centre, combining the country's best academic talent, will be the largest of its type in the world and will become an international forum for power electronics research. It will focus on sustaining and growing power electronics in the UK by delivering transformative and exploitable new technologies, highly skilled people and by providing long-term strategic value to the UK power electronics industry.
Welcoming the opening of the Centre, Minister for Universities and Science, David Willetts, said: "We have a leading power electronics industry in the UK, but we need to keep investing in research to ensure it remains globally competitive. This National Centre will bring together our excellent universities and businesses to ensure industry has access to the latest science and technology, as well as helping to maintain a supply of skilled people."
The ten universities who will initially benefit from research funding for the new centre are the universities of Bristol, Cambridge, Greenwich, Imperial, Manchester, Newcastle, Nottingham Sheffield, Strathclyde and Warwick.
The Centre programme will focus on fundamental power electronics research at low technology readiness level (TRL) and will support a wide range of application areas with a medium to long-term time horizon.
Key challenges that will be addressed in the Centre are: increased power conversion efficiency, increased power density, increased robustness, lower electromagnetic interference (EMI), higher levels of integration and lower through life cost. The work programme will be split into four high-level Research Themes of Devices, Components, Converters and Drives, each of which will address the key challenges, supported by a co-ordinating Hub.
The Centre will be funded as five linked grants, one funding the main hub activity, led by the University of Nottingham, and four technical themes. The University of Bristol is leading one of the technical themes, Components, and will be co-investigators on the remaining three other themes as well as the Hub.
Two University research groups will be involved in the centre; The Electrical Energy Management Group led by Professor Phil Mellor in the Faculty of Engineering and the Centre for Device Thermography and Reliability led by Professor Martin Kuball in the School of Physics.
Professor Phil Mellor, speaking about the new centre, said: "This represents a unique opportunity to collaborate with the best UK research groups on new technologies and engineering innovation that will facilitate the widespread adoption of low carbon energy systems."
Further information
Power Electronics
Power Electronics refers to devices, circuits and systems that manage electrical energy. It is a wide ranging technical area that cuts across various sectors and research areas. The technology covers a large spectrum of power levels, from milliwatt DC/DC power converters for maintaining voltage levels in consumer electronic devices as battery power degrades, through kilowatt power systems utilised in electric vehicles to gigawatt Thyristor valve stacks for high power conversion and distribution direct from generation sources. Power Electronics systems are the result of hierarchies of research, design and manufacturing activities across many scientific and engineering disciplines. System design and integration skills play a core role while other important aspects include basic materials, component technologies, electrical engineering, analogue and digital electronics, control, sensors, thermal management, mechanical engineering and reliability science.
Engineering and Physical Sciences Research Council (EPSRC)
The Engineering and Physical Sciences Research Council (EPSRC) is the UK's main agency for funding research in engineering and the physical sciences. EPSRC invests around £800 million a year in research and postgraduate training, to help the nation handle the next generation of technological change. The areas covered range from information technology to structural engineering, and mathematics to materials science. This research forms the basis for future economic development in the UK and improvements for everyone's health, lifestyle and culture. EPSRC works alongside other Research Councils with responsibility for other areas of research. The Research Councils work collectively on issues of common concern via Research Councils UK.