View all news
Professor Mick Aston, 1946-2013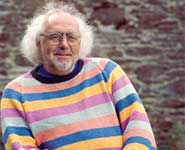 25 June 2013
Professor Mick Aston, Emeritus Professor of Landscape Archaeology at the University of Bristol, a pioneer of landscape archaeology, a prolific author and a tireless campaigner for access to academia, died unexpectedly at his home on Sunday night aged 66.
Michael Antony Aston, or 'Mick' to the millions that watched him on the popular television series Time Team every week, was born into a working class family in Oldbury, West Midlands in 1946. Mick was the first in his family to go to university and studied geography at the University of Birmingham, where at the same time he pursued his interests in archaeology and the historic landscape, both academically and through fieldwork.
Mick was one of a group of pioneers who believed that you could study and understand archaeological sites from their surfaces and position in the landscape and that large scale excavation was often an expensive and unnecessary option. In 1974, he coined the term 'landscape archaeology' in a handbook of fieldwork methods co-authored with Trevor Rowley. He applied his methods to both urban landscapes as well as rural ones, and probably his finest academic contribution was a ten-year magisterial survey of Shapwick, an ordinary village in Somerset, that he and volunteers studied and which has become a type site for the study of the development of medieval villages. With collaborator Chris Gerrard, he published both a massive monograph and a few weeks before his death, an accessible popular account.
Mick's passionate belief was that academia should be open to all and he naturally found a home in continuing education. While reading for a higher degree, Mick taught at the Extramural Department of the University of Birmingham. He then moved to Oxfordshire to take up a post at the Oxford City and County Museum, where he taught many extramural classes for the University of Oxford. From there he moved to Taunton to become the first County Archaeologist for Somerset, where he developed a passion for aerial photography and aerial archaeology, often chartering private small planes to indulge his passion. At this time he also taught extramural classes in archaeology at the University of Bristol.
In 1978, he became a full-time tutor in local studies at the Oxford University External Studies Department. Then in 1979, he returned to the West Country as a staff tutor in archaeology at the University of Bristol's Department of Extramural Studies, where he tirelessly laid on evening and weekend courses in cold parish halls up and down the region and brought archaeology to many thousands of people.
In August 1989 Mick was promoted to Reader, where his knowledge, passion and enthusiasm for his subject were greatly appreciated by all his colleagues. Mick was an exceptional individual, who was great fun to work with, and his enthusiasm for archaeology was infectious. In 1996 Mick was promoted to a personal professorship as Professor of Landscape Archaeology within the University's Department of Continuing Education, where he gave his inaugural lecture in his trademark stripy jumper. In August 1998 Professor Aston's post transferred to the Centre for the Historic Environment within the Department of Archaeology.
When he retired from the University of Bristol in 2004, he was awarded the title Emeritus Professor of Landscape Archaeology. He was also awarded Honorary Visiting Professor at the University of Exeter and the University of Durham, and in the same year he was awarded an honorary Doctor of Letters (DLitt) by the University of Winchester. In 2007, he was also awarded an honorary degree from Worcester University, and his academic colleagues, many associated with the University of Bristol, contributed to a festschrift in his honour in the same year.
Mick published widely on landscape archaeology and methodology, focusing on the study of British landscapes in the Medieval and Early Medieval periods. He had particular research interests in the archaeology of towns and monastic sites. In 2006, Mick began writing a series of articles under the banner of 'Mick's Travels' for British Archaeology magazine. Appearing regularly in the bimonthly magazine, he visited and discussed archaeological sites and monuments across the British Isles.
Mick will no-doubt be remembered most fondly however, for his contributions to television archaeology. In 1988, Mick was invited to work on a new four-part television series for Channel 4 called Time Signs, which was broadcast in 1991. This led to the birth of the immensely popular Time Team series, in which Mick appeared on virtually every episode from 1994 to 2011 and he was the key figure in the success of each episode as the resident academic archaeological expert. The success of Time Team was through the belief that archaeology could tell the story of ordinary lives and that TV archaeology did not need to be a treasure hunt, but a serious investigation with often an unpredictable outcome. The Time Team series regularly attracted four million viewers every week, and as a result Mick became an icon to the viewing public, inspiring many to pick up a trowel for the first time and take up archaeology, and even increasing student numbers on archaeological courses and degree programmes across the country.
Mick, with his detailed archaeological knowledge, wide fieldwork experience and engaging manner is a sad loss for archaeology. Mick continued to teach and inspire archaeology students right up to the end, giving his last lecture on the MA in Landscape Archaeology at the University of Bristol just a few short weeks ago.
Through Time Team, Mick brought archaeology into the living rooms of half the nation, and left a legacy that will shape the discipline for decades to come.