View all news
Protecting and planting forest carbon is important but does not offset fossil fuel emissions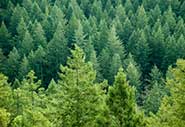 Press release issued: 30 May 2013
Policy-makers and the off-setting industry worldwide need to re-think the idea that planting trees can offset carbon dioxide emissions from fossil fuels, says an international study published today in Nature Climate Change.
Professor Brendan Mackey of Griffith University, lead author of the study involving researchers from Australia and the UK, said: "There is a danger in believing that land carbon sinks can solve the problem of atmospheric carbon emissions because this legitimises the ongoing use of fossil fuels."
Dr Jo House from the University of Bristol's Cabot Institute, a co-author of the study said: "Planting forests to offset emissions is an important temporary solution and one of only a few current options to remove carbon dioxide from the atmosphere. However, it only offsets some of the past emissions from deforestation and is limited due to the need to use land to grow food. Also the carbon is only stored as long as the forest is there while, on the other hand, about a third of emissions of carbon dioxide remain in the atmosphere for millennia. The ultimate message of our study is that fossil fuel emissions must be cut."
The study notes that protecting natural forests avoids emissions that would otherwise result from logging and land clearing while also protecting biodiversity. Restoring degraded ecosystems or planting new forests draws carbon dioxide from the atmosphere and stores it on land.
Professor Mackey said: "These land management actions should be rewarded as they are an important part of the solution. However no amount of reafforestation or growing of new trees will ultimately off-set continuing carbon dioxide emissions due to environmental constraints on plant growth and the large amounts of remaining fossil fuel reserves. Unfortunately, there is no option but to cut fossil fuel emissions deeply."
Paper
'Untangling the confusion around land carbon science and climate change mitigation policy' by Brendan Mackey (Griffith Uni.), I. Colin Prentice (Macquarie Uni. & Imperial College), Will Steffen (ANU), Joanna I. House (Bristol Uni. Cabot Institute), David Lindenmayer (ANU), Heather Keith (ANU) and Sandra Berry (ANU) in Nature Climate Change
Cabot Institute
The Cabot Institute at the University of Bristol carries out fundamental and responsive research on risks and uncertainties in a changing environment. Its interests include natural hazards, food and energy security, resilience and governance, and human impacts on the environment. Its research fuses rigorous statistical and numerical modelling with a deep understanding of interconnected social, environmental and engineered systems – past, present and future. It seeks to engage wider society – listening to, exploring with, and challenging our stakeholders to develop a shared response to twenty-first century challenges.